Palestine
Palestinian released after 17 years in jail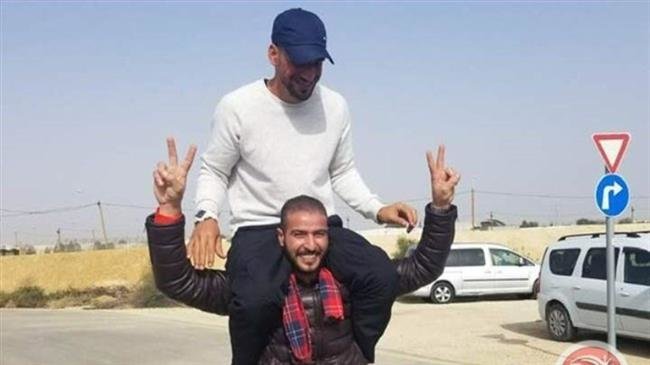 Israeli officials have released a Palestinian who they kept in detention for nearly two decades on trumped-up charges of engagement in acts of terrorism across the West Bank and occupied Jerusalem al-Quds.
The Palestinian Prisoners Society (PPS) announced in a statement that 38-year-old Abed al-Rahman Khalil Mahmoud, from al-Issawiya neighborhood in Jerusalem al-Quds, was set free on Sunday after 17 years of imprisonment.
The PPS noted that Mahmoud was detained in February 2002 over membership in the Democratic Front for the Liberation of Palestine (DFLP), which the Tel Aviv regime later accused of "supporting terror activities" in Jerusalem al-Quds.
The development came a day after Israeli authorities released two Palestinian teenagers to house arrest for one week, and ordered each of them to pay a fine of 5,000 shekels ($1,385).
Palestinian sources, requesting not to be named, identified the pair as 14-year-old Abed Mahmoud Odeh and Muhammad Mahdi al-Shaludi.
Sources said Israeli forces detained the teens in front of their homes in the Silwan neighborhood of East Jerusalem al-Quds late on Friday. The reason for their detention remains unknown.
Earlier this month, a professor exposed the fact that the Tel Aviv regime's officials grant permits to major pharmaceutical companies so they can carry out tests and clinical trials on Palestinians currently being held in Israeli jails and detention centers.
Speaking at Columbia University in New York City, Professor Nadera Shalhoub-Kevorkian of the Hebrew University of Jerusalem (al-Quds) also revealed that Israeli arms manufacturers are experimenting new weapons systems on children in the Palestinian neighborhoods of occupied Jerusalem al-Quds in order to help boost their international weapons sales.
"Palestinian spaces are laboratories," she said in her speech entitled "Disturbing Spaces – Violent Technologies in Palestinian Jerusalem."
Shalhoub-Kevorkian, who is a professor of social work and law at the university, went on to say that the invention of products and services of Israeli-sponsored security corporations are "fueled by long-term curfews and Palestinian oppression by the Israeli army."
Back in July 1997, Israeli Hebrew-language Yedioth Ahronoth daily newspaper, citing Dalia Itzik, chairman of a parliamentary committee, reported that the Israeli Ministry of Health had allowed pharmaceutical firms to test their new drugs on Palestinian inmates, noting that 5,000 tests had already been conducted.
Some 7,000 Palestinians are currently behind bars in 17 Israeli prisons and detention centers, according to reports.
More than 400 Palestinians are being held without trial under so-called administrative detention, which is a policy according to which Palestinian inmates are kept in Israeli detention facilities without trial or charge. Some Palestinian prisoners have been held in administrative detention for up to 11 years.
Furthermore, a total of 13 Palestinian lawmakers are currently held in Israeli detention facilities, nine of whom under administrative detention.