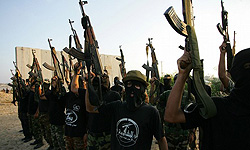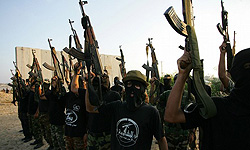 Nasser Salahuddin Brigades, the armed wing of the Popular Resistance Committees (PRC) of Palestine, warned Israel that any violation of the ceasefire agreed between the two sides will be reciprocated with the Palestinian movement's crushing response.
Combatants of the Nasser Salahuddin Brigades are prepared to respond to any stupid act of the Zionist enemy," the PRC said in a statement on Wednesday.
The statement also underlined that in case the Israeli regime violates the ceasefire, the military bases of the regime within the 1948 occupied territories will be targeted by the resistant group.
The statement underlined incapability of the Zionist regime's anti-missile system called 'Iron Dome' against the Palestinians' short-range missiles, and warned that if the Zionist regime violates the ceasefire, Israeli settlements will neither be immune from the Palestinian rocket attacks and the Zionist regime will be stunned by the movement's swift and hard blows.
Earlier this year, a leader of the Palestinian Islamic Jihad Movement had dismissed Israel's intensified war rhetoric against Palestinians as hollow words, and warned that Palestinian rockets would rain down on Zionist settlements in response to any Israeli aggression.
"Raining rockets on Zionist settlements would be the Palestinian combatants' response to any massive Israeli attack," Hajj Abou Samer Moussa said in January.
Moussa dismissed the Zionist regime's attempts to defeat resistance in Palestine, and said the regime would fail in its plots since the Palestinian people "have the right and we will not allow anyone to trample upon our right".