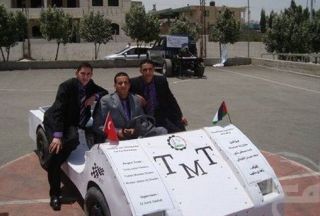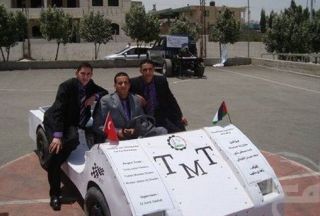 Despite the scarcity of equipment and lack of funds, a team of Palestinian university students has managed to build a single-passenger running on solar energy.
Engineering students at the Palestine Polytechnic University in the West Bank city of al-Khalil (Hebron) designed the vehicle as a school project.
The car carries hundreds of photovoltaic panels that convert sunlight into electricity to feed the batteries.
Using 12 batteries, totaling 24 volts, the golf cart-like car can reach the maximum speed of 30 km/h (18 mph). The batteries can power the car for 100 minutes. The batteries can be recharged by home electric, when there's no sunlight.
Monjed, one of the designers, says he hopes his environmentally-friendly project would draw international attention to the plight of the Palestinians, who have been living under Israeli aggression for decades, a Press TV correspondent reported.
Al-Khalil is considered by Human Rights groups as one of the West Bank cities that suffer the most form the Israeli settler violence and strict military control.