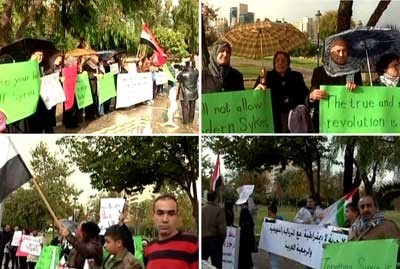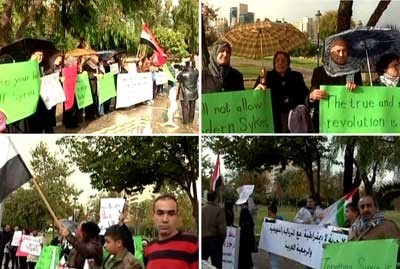 Palestinian figures and a crowd of the people of the occupied Syrian Golan on Saturday held a meeting of solidarity with Syria at the People's House in Bqa'ata village in the occupied Golan. The meeting was titled 'No to Arab League Decisions, Yes to the Resistant Syria'.
Archbishop Atallah Hanna of the Sebaste Roman Orthodox Church regretted it has started to become clear that there are Arab sides involved in conspiring against Syria, noting these countries are working at the behest of the U.S.A to implement colonialist projects not in the interest of the Arab nation and peoples.
Sheikh Naser Darawsheh, Imam of al-Abiyad Mosque in al-Nasserieh city in the occupied Palestinian territories since 1948, said that Syria will not be harmed by the conspiracies hatched against it, stressing that the Palestinian people wholeheartedly stand by Syria.
Saeed Naffa', head of the Arab Communication Committee, criticized the Arab League's decision on suspending Syria's membership, affirming that Syria will overcome the crisis it is going through.
Sit-in outside US Consulate in Occupied Jerusalem in Condemnation of U.S. Policies against Syria
In the occupied Jerusalem, dozens of Palestinians staged a sit-in in front of the U.S. Consulate to express condemnation of the U.S. hostile policy towards Syria and rejection of the Arab League decisions against it.
The participants in the sit-in, organized by the Popular Committee for Solidarity with Syria and Its leadership, held banners hailing the Syrian stance and leadership and expressing support to the reform program led by President Bashar al-Assad.
"We came here from all the occupied Palestinian cities to protest against the US as it is the embodiment of antagonism towards the Arab nation and its causes and to raise slogans of support to Syria, leadership and people at this critical stage," said Muheisin Qais from al-Jalil city.
The participants in the sit-in expressed rejection of foreign interference in the Syrian internal affairs, stressing that the same hands which have brought destruction to their lands and houses are currently attacking Syria.