Palestine
Palestinians hold funeral for man shot by slaughterer israeli troops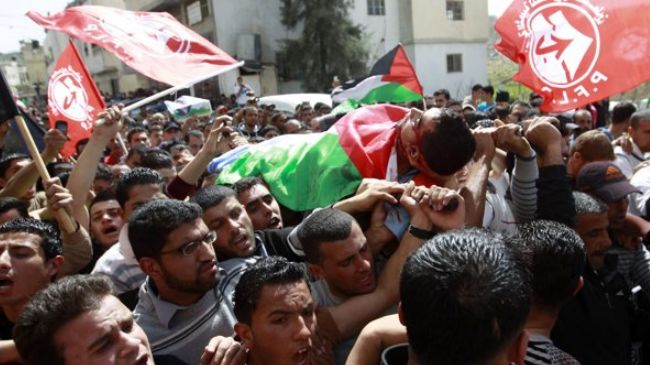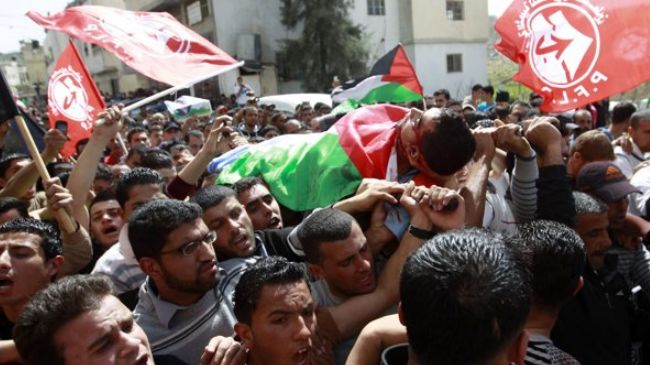 People have held a funeral for a Palestinian who was shot dead by Zionist Occupation israeli forces in a clash in the occupied West Bank.
On Wednesday, hundreds of Palestinians held a funeral for 25-year-old Mahmoud al-Titi, who died on Tuesday evening after he was shot in the upper part of his body in Fuwar near the city of al-Khalil (Hebron) in southern West Bank.
Titi was one of many Palestinians who were throwing stones at israeli soldiers, but his relatives reject the allegation.
"He had a smart phone and was filming from probably a hundred meters away from the [israeli] army jeeps. At a distance of a hundred meters, a stone cannot reach. A sniper soldier shot him," Titi's cousin said.
Two other Palestinians suffered injuries in the leg and abdomen in Tuesdays' clash.
Clashes between Palestinians and israeli troops broke out shortly after the occupying forces stormed the al-Fawwar refugee camp.
Palestinian youths — angry over the presence of israeli soldiers at the camp site — hurled stones and bottles at the Israeli troops, who fired live bullets in return.
On March 8, israeli soldiers shot and wounded a Palestinian in the besieged Gaza Strip. The young man was injured after Israeli forces opened fire at a group of Palestinians on a farm in the northern town of Jabalia.
Palestinian medics said the victim — a young man in his early twenties — was shot in the chest.