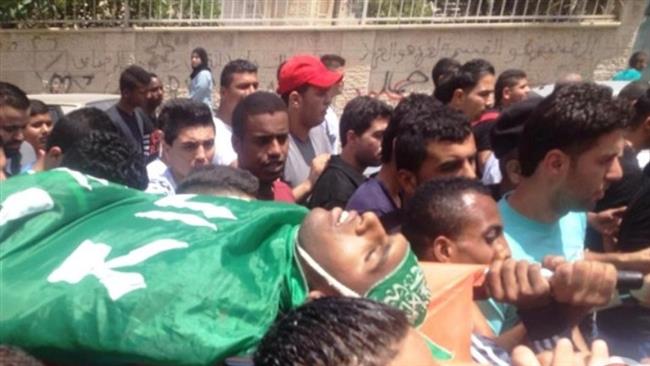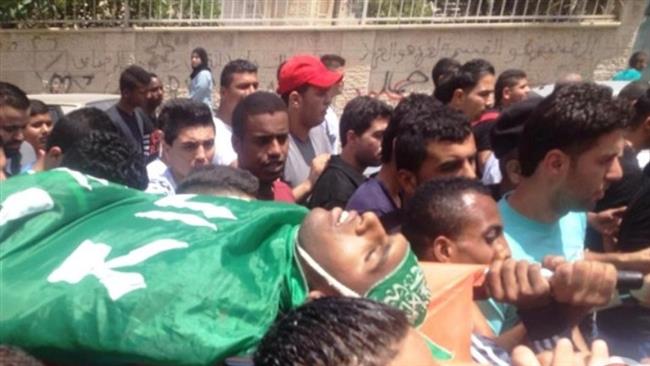 Palestinians have held a funeral for a 21-year-old youth killed by Israeli forces in the Jenin refugee camp in northern West Bank.
Hundreds of mourners on Wednesday marched from the Sheikh Zayid Bin Sultan mosque of the refugee camp, where the young man was shot.
Israeli forces attacked the refugee camp earlier in the day, killing Izz al-Din Walid Bani Gharra, who was reportedly shot in the chest, Ma'an news agency reported.
Gharra is the 12th Palestinian killed by Israeli forces in the occupied East al-Quds (East Jerusalem), West Bank, and the besieged Gaza Strip so far this year, according to the UN Office for the Coordination of Humanitarian Affairs, with over 900 more injured, which does not include injuries resulting from the Israeli settler violence.
"I lost everything after Izz was killed, it was a shock, my son Izz loves life and he loves Palestine. Israel killed him in cold blood," said Gharra's mother at his funeral as quoted in the report.
The Palestinian resistance movement Hamas also expressed condolences over the killing.
Violent search and arrest raids on Palestinian refugee camps and neighborhoods are a regular practice of Tel Aviv forces, who have conducted a weekly average of 86 raids this year, up from 75 a week in 2014, according to a May report by the UN Special Coordinator (UNSCO).
Such raids often result in what rights groups say is excessive use of force by Israeli troops against the local Palestinian population, who often hurl rocks and bottles at the forces.
Since 2000, Israeli forces have killed nearly 8,900 Palestinians, over 1,900 of whom have been children, according to rights group Defense for Children International.