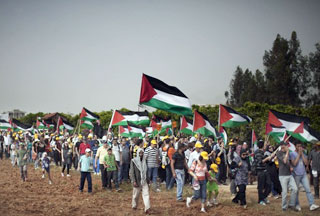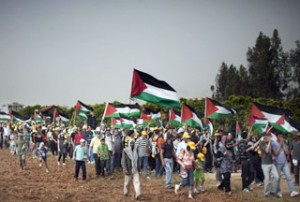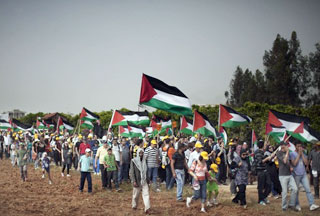 Thousands of Palestinians mark Nakba (catastrophe) Day on the 62nd anniversary of the formation of Israel in occupied Palestinian territories.
The day of Nakba commemorates the displacement of some 750,000 Palestinians in the aftermath of Israel's occupation of Palestine in 1948.
Israeli aggression sent millions of Palestinians to exile, of whom a UN-estimated 4.7 million currently live in camps in the occupied West Bank and neighboring countries such as Lebanon, Jordan and Syria.
On Tuesday, protesters carrying Palestinian flags and signs with the names of destroyed Arab villages marched to the site of the village of Miska to demand the right of return for those expelled by Israel.
Miska, 15 kilometers (nearly 9 miles) southwest of the West Bank city of Tulkarm, is one of more than 531 villages emptied by the Israeli army in 1948.
Arab Israeli lawmaker Talab al-Sana described the destroyed Palestinian villages as "a testimony to the crimes of Zionism, which included war crimes and crimes against humanity, including the uprooting of dozens of towns, the expulsion of hundreds of thousands of Palestinians just two years after WWII and tens of years before the Goldstone Report."
Sana was referring to a UN report, which charged Israel with war crimes and crimes against humanity during its December 2008-January 2009 offensive on the Gaza Strip. The deadly onslaught left well above 1,400 Palestinians, mostly civilians, killed and thousands more injured.
"People live just a few hundred meters away from the home they were uprooted from, and the pain has not eased up to this day," said Chairman of the Arab Higher Monitoring Committee, Mohammad Zeidan.
Zeidan criticized Israel for legislation of discriminatory and "racist laws against Arabs, who are living in their homeland," urging that laws must be passed instead "to allow the refugees to return to their homes."
Zeidan noted that the number of people, especially children and teens, taking part in the Nakba Day march increases from year to year. "All the racist laws against the Arab public in Israel just strengthen and unify it," he said.