Palestine
Palestinians Need to Rise in United Ranks against Israeli Bullying, Occupation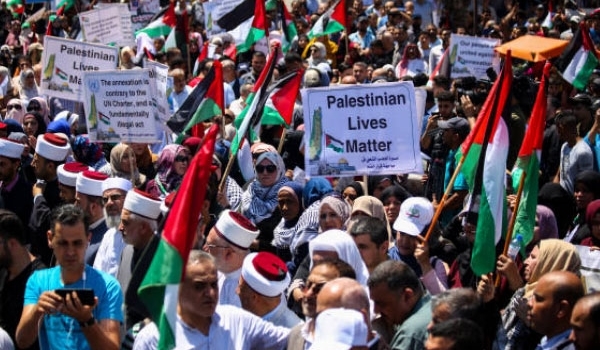 Armed Israeli settlers and soldiers continue to attack Palestinian homes and farmlands in the occupied West Bank.
Palestinian media reports say that the illegal settlers attack Palestinians in the area of Khillat Hassan which is threatened with takeover, in the town of Biddya.
The settlers claim that the lands is theirs, and they want to take it by force. For the same reason, the town has witnessed protests every Friday against attempts by illegal settlers to take it over.
According to human rights groups, incidents of sabotage and violence by extremist settlers against Palestinians and their property are a daily occurrence throughout the West Bank.
More than 600,000 Israelis live in over 230 illegal settlements built since the 1967 Israeli occupation of the Palestinian territories of the West Bank and East Jerusalem al-Quds.
This is while all Israeli settlements are illegal under international law. However, that hasn't stopped the US and Israeli regimes from efforts to dismantle UNRWA, advocate a suspension of funding for Palestinians, perpetuate the refugee crisis, and ultimately Judaize the Holy Land.
Meaning, Palestinians in the West Bank, who have now spent 50 years under Israeli military control, and their daily lives are full of checkpoints, walls and patrols, have no choice but to rise up. They should do so before it gets too late.
Palestinian officials say Trump's declaration on Jerusalem Al-Quds as Israeli capital, disclosing the true objective of decades of US policy, means Washington has never been an honest broker in peace negotiations, a trend that has just been a plot to cool down their uprising, the Intifada. They condemn his remarks on the funding halt as blackmail.
Palestinians want East Jerusalem Al-Quds as their only capital. This has been backed overwhelmingly by the Organization of Islamic Cooperation (OIC).
Palestinians need all the support they can get from the OIC and the UN. This is because the US and Israel are now actively invested in a system of political Apartheid in Palestine. Worst thing the international community could do right now is look the other way.
The US and Israel have something far more consequential in mind. They are planning a series of measures aimed at fully denying Palestinians their legal rights in Al-Quds and precluding any future peace settlement that the West might put forward. This is while international law insists that Israel has no sovereignty over Al-Quds, illegally occupied and annexed.
There is a troubling reason why Trump wants to fully move US embassy to Al-Quds. The idea is to further demote the status of Palestinians, who would find themselves in a politically gray area. This could give Israel's military enough time to kill, wound and detain more Palestinians.
Taken together, the US and Israel stand alone in their criminal campaign to deny Palestinians their rights in their unlawfully occupied city. Wasting no time, Palestinians should take matters into their own hands as the Zionist regime is now pushing forward with designs to further isolate Al-Quds through further construction of the Separation Wall and illegal settlements and to empty it from its Palestinian inhabitants.
Palestinians should understand that Israel is exploiting the unparalleled US support to the maximum, and that any delay on a new wave of uprising would certainly be missed opportunities to ensure their right to freedom and self-determination permanently.
The nature of the US-Israel coordination is indeed unprecedented. The nature of the Palestinian uprising should equally be unprecedented, else they would be intimidated, bullied and ultimately stripped of their rights.
The Palestinians should choose between their existing humiliation or eternal humiliation when Al-Quds is no longer theirs. PA officials have made many threats so far, including the exclusion of the US from the peace process and changing their demand to a one state solution. But there needs to be something concrete regarding one that is predicated on a united Palestinian leadership that truly explores new options, allies and future outlook.
It is essential of the people of Palestine, therefore, to take to the streets to end the US-funded Israeli occupation and Apartheid and its abuse of Palestinian indigenous rights – some of which are happening right now. No Doubt, the international civil society also stands right beside them in opposition to the US and Israel and their racist and colonial rule over Palestine.