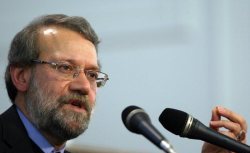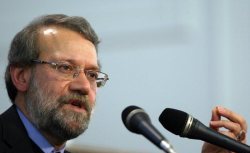 Palestinians are paying the price of US paradoxical approach toward the Palestine issue, Iran Parliament Speaker Ali Larijani said on Saturday.
He made the remark in the meeting with his Qatari counterpart Muhammad bin Mubarak al-Khalifi on the opening day of the 5th International Conference on the Palestinian Intifada in Tehran.
The Majlis Speaker noted that Washington ignores the weight of the Islamic world and its potentials for resolving global problems.
"The presence of high ranking officials from around the Islamic world proves the importance of freedom of Palestine for Muslim nations and officials, he underlined.
Pointing to friendly Relations between Tehran and Doha going beyond the common relationship amongst neighbors, Larijani called for development of ties between the two countries.
Thanking the Iranian nation and its Supreme Leader Ayatollah Ali Khamenei for hosting the conference, the Qatari Parliament Speaker for his part, called for the development of relations between Tehran and Doha in various fields, particularly in economy.
Parliamentary delegations including several speakers, leading political figures and scholars from 50 Islamic and non-Islamic countries as well as leaders of several Palestinian groups are taking part in the two-day event which is focusing on the motto of "Palestine, a land only for Palestinians".
The motto adopted by the gathering is a reflection of the fact that Palestinians "are not" in search of a land because they already have their own one.
The conference aims to mobilize all official and non-official capacities in the Islamic world as well as other freedom-loving countries to support Intifada and back the inalienable rights of the Palestinian people in removing occupation of their homeland, return homeless Palestinians to their motherland and vindicate the right of the Palestinians to determine their own destiny.