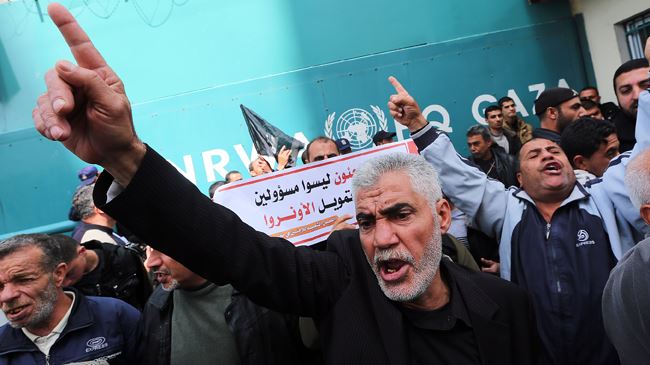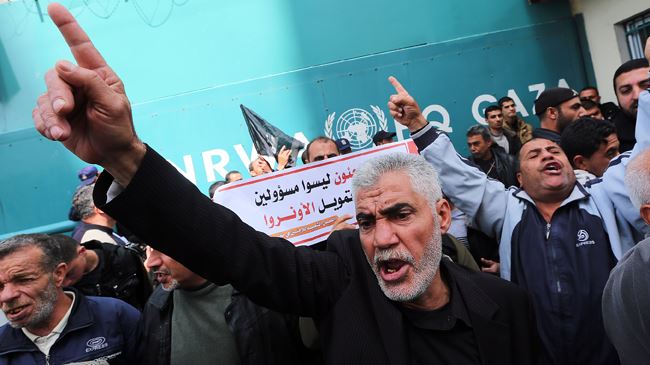 Palestinians have staged a demonstration in the Gaza Strip to protest against the UN inaction in the reconstruction of the besieged coastal sliver.
Palestinians converged in front of the office of the UN Relief and Works Agency for Palestine Refugees (UNRWA) in Gaza City on Monday, arguing that the UN has failed to speed up reconstruction efforts and ease Israel's restriction on the entry of construction materials.
The latest Israeli war on the Gaza Strip, which started on July 8, ended on August 26 with a truce that took effect after indirect negotiations in the Egyptian capital, Cairo. The onslaught killed at least 2,140 Palestinians and injured thousands of others.
According to initial figures, nearly 89,000 Palestinian homes have been damaged in the Israeli military campaign. A total of 15,000 homes have been either leveled to the ground or badly damaged that are no more habitable.
Robert Turner, director of the UNRWA operations in Gaza, said on November 4 that the extent of damage and homelessness after the Israeli war was worse than first thought.
It is estimated that as many as 400 trucks, delivering building materials from concrete to machinery, are needed every day for the next six months for the reconstruction process. However, only around 75 trucks have made deliveries so far.
The Popular Committee for Monitoring the Reconstruction of the Gaza Strip said on November 15 that it will take at least twenty years to rebuild Gaza.
International donors have pledged USD 5.4 billion for the rebuilding process. Palestinian experts, however, argue that the reconstruction would cost around USD 7.7 billion.