Paper Reveals US, France's Role in Unrests in Algeria
 A leading Lebanese newspaper revealed that the US and French intelligence officers are leading operations rooms to escalate the current protest rallies to unrest, violence and a revolution.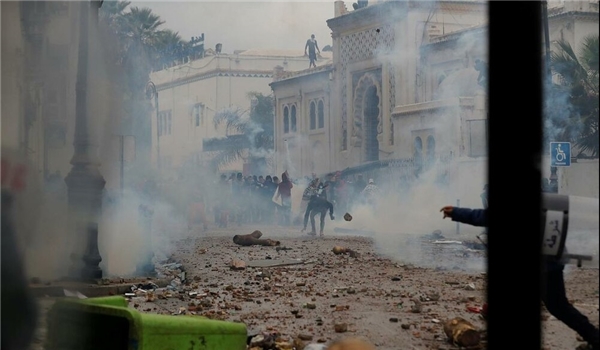 "A central operations room has been formed to manage the revolution in Algeria with Rabat city in Morocco as its headquarters. 4 American and 6 Moroccan intelligence officers are present in the operations room as well as 12 Serbian nationals who are called as destruction experts and they are financially supported by the US," the Arabic-language al-Bana newspaper wrote on Monday.
It added that two other rooms for field operations have also been established in Wajdah city in Northeastern Morocco, near the border with Algeria, which is controlled by 11 US, Moroccan, Serbian and Algerian operations officers.
According to the paper, the second room for field operations has been established in the town of al-Rashidiyeh which is 80km away from Algeria, saying that 8 officers from the aforesaid countries and two French intelligence-military officers work for it.
Amid the biggest threat to his 20-year rule, Algerian President Abdelaziz Bouteflika arrived at an airbase Southwest of the capital, Algiers, according to state media.
His aircraft on Sunday flew into the Boufarik military airport from the Swiss city of Geneva, where the 82-year-old leader – whose bid to seek a fifth term has been met with unprecedented protests – had a two-week medical trip.
State TV carried a statement from the presidency saying he had returned to Algeria after routine medical checks. Images later showed a convoy departing the airport.
The president, who is confined to a wheelchair, has rarely been seen in public since suffering a stroke in 2013, prompting critics to question whether he is being used as a puppet candidate by a faction of civilian and military figures.
Massive protests began on February 22 to denounce Bouteflika's plans to extend his rule in the April 18 polls.
Bouteflika has offered to limit his term after the election and has vowed to change the "system" that runs the country. The promises, however, have failed to quell public anger, galvanizing discontent among different sectors, particularly students and other young people.
Some long-time allies of Bouteflika, including members of the ruling FLN party, have expressed support for the protesters, revealing cracks within a ruling elite long seen as invincible.