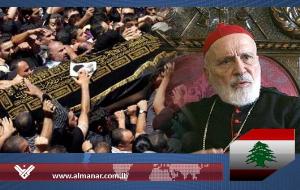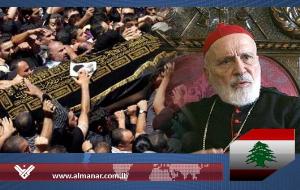 It is hard to understand how politics in Lebanon mingle with religion, personal interests, and in many cases intolerance.
When Ayatollah Sayyed Mohamad Hussein Fadlullah was pronounced dead, representatives from countries, parties, and associations as well as high level politicians, diplomats, and religious figures gathered at the Hassanein Mosque to offer condolences to the family of a man who became known for his openness, tolerance, knowledge, and dialogue. Shiite, Sunni, Druze, Christian, religious, non-religious figures expressed deep regret at the loss of Ayatollah Fadlullah.
"Maronite Patriarch Nasrallah Sfeir alone boycotted Sayyed Fadlullah's funeral and did not offer condolences," said Hasan Olleik in Al-Akhbar newspaper on Wednesday. "He did not dispatch a representative, nor did he issue an obituary statement. Sfeir, among every other religious authority in Lebanon, still ignores the event. Sfeir's attitude is questioned by many circles as some politicians and monitors have pointed that he Patriarch was still angry at the Sayyed, since August 2009, when Ayatollah Fadlullah retorted at Sfeir's comments about the rule of the majority and the opposition of the minority in Lebanon. They also put Sfeir's attitude reflects his personal doubt in the patriotism and the objectives of a part of the Lebanese people who 'pose a present threat to the Lebanese identity,' according to the Patriarch. Back then, Sayyed Fadlullah criticized 'religious groups that say that Lebanon's glory was granted to it' and then projected his point of view saying that 'Lebanon's glory was only given to the resistant and the struggling people of Lebanon.' Some circles have found Patriarch Sfeir's silence during a pure human-centered and national event leading one politician to ask whether Sfeir was seeking to establish a 'boycott with the Shiite sect' or he wanted to say that 'he is not tolerant of those who dare to argue about politics with him," Olleik said in his article.
When Akel Hashem, the number-two in the Antoine Lahed's South Lebanon Army (SLA), was executed by the Islamic Resistance back in 2000, Patriarch Sfeir dispatched a delegation to the occupied territories in the south to take part in the collaborator's funeral. Hashem was supposed to take the lead of the SLA after the retirement of chief collaborator Antoine Lahed. His execution was delayed several times because Hashem was often accompanied by civilians, namely his wife and children.