Iran
Pence's Iran remarks hateful, ignorant: Zarif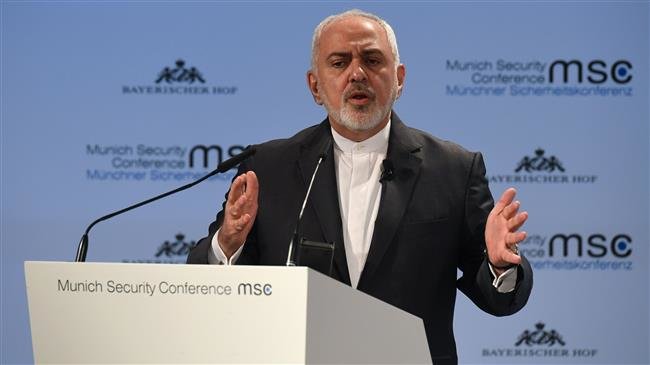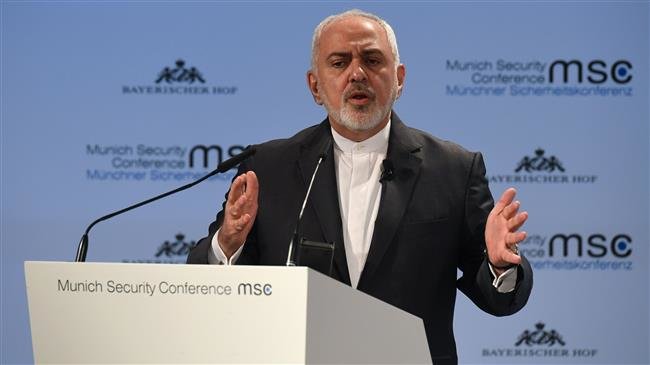 Iran's foreign minister says US Vice President Mike Pence's remarks in which he accused Tehran of anti-Semitism akin to the Nazis, were "hateful" and "ignorant."
"His [Pence's] hateful accusations against Iran, including his ignorant allegation of anti-Semitism against the heirs of a man described as 'Messiah' in the Torah for saving Jews, are both ridiculous and dangerous," Mohammad Javad Zarif told the 55th Munich Security Conference in Germany on Sunday.
Attributing Pence's remarks to Washington's age-old grudge against the Islamic Republic, Iran's top diplomat said, "We've never been forgiven by the United States for having exercised our right to self-determination."
After visiting the Auschwitz concentration camp in Poland on Friday, the US vice president repeated his harsh rhetoric against Iran by accusing Tehran of Nazi-like anti-Semitism, .
Addressing the Munich conference on Saturday, Pence also claimed that Iran "openly advocates another Holocaust and it seeks the means to achieve it."
Iranian Foreign Ministry Spokesman Bahram Qassemi on Saturday lashed out at the US vice president Mike Pence for accusing the Islamic Republic of Nazi-like anti-Semitism, saying such "absurd" allegations originating from a grudge and anger would fail to have any impact on Iranian Muslims' opinion of Jews inside and outside the country.
"Exercise patience, study and learn that history is full of facts that no power will ever be able to erase or change," Qassemi told ISNA.
In his Sunday address to the Munich Security Conference, Zarif also slammed the US for pursuing its animosity against Iran over the past two years, particularly after its withdrawal from the historic Iran nuclear deal, officially known as the Joint Comprehensive Plan of Action (JCPOA).
"In the past two years, the US has taken its animus towards Iran to a new extreme, as epitomized by its unlawful and unilateral abrogation of its commitments under the painstakingly-negotiated Joint Comprehensive Plan of Action, which was unanimously endorsed by the UN Security Council," the top Iranian diplomat said.
US President Donald Trump withdrew Washington in May from the nuclear agreement, reached between Iran and the P5+1 group of countries in 2015, and decided to re-impose unilateral sanctions against Tehran.
Under the deal, Iran undertook to put limits on its nuclear program in exchange for the removal of nuclear-related sanctions.
The Iranian foreign minister further stated that the US, driven by its pathological obsession with Iran, has long encouraged reckless and destructive adventurism on the part of its clients.
"The US has systematically shielded Israel's constant aggression against Palestinians, while insulating its severe violations of the sovereignty of Lebanon and Syria," he added.
Zarif lashed out at the US for milking the Middle East of its resources through vast arms sales and said, "According to the most conservative estimate, the GCC [(Persian) Gulf Cooperation Council]'s military spending alone will reach a record high of $100 billion this year-almost seven times that of Iran."
The Iranian foreign minister then emphasized that no theatrics, including the show put on by the US vice president, can obscure realities in the region.
"Indeed, more and more nations are becoming explicit about the fact that the United States is now the single biggest source of destabilization in our neighborhood," Zarif pointed out.
He said Iran's efforts to continue the full implementation of the JCPOA despite the US abrogation have played a major role in decreasing tension and promoting regional and global stability.
Iran's top diplomat emphasized that the country "cannot foot the entire bill for vital global security achievements" and urged European countries to take all necessary measures in this regard.
Iran has always shown its desire for engagement, however, it would not depend on others for its security, stability, prosperity and progress, Zarif said, adding, "We solely depend on our own people."
He concluded his remarks by saying that Iran's foreign policy aims to "further the goal of creating a strong region that precludes the emergence of hegemonic aspirations by any power — regional or global."
"A strong region simply means more confidence, more trade and more interaction between and among the countries in the region, than with external powers."
Israel seeks war in region: Zarif
Addressing a question and answer session following his speech at the Munich Security Conference, Zarif said that Israel seeks to wage war in the region.
"Certainly some people are looking for war," Zarif said, adding "Israel" when pressed to say who.
In a wide-ranging exclusive interview with NBC News on Friday, Zarif warned the United States and its allies that it would be "suicidal" to go to a war with Iran.
He added that the "same gang" behind the US invasion of Iraq in 2003 was "at it again" in pushing for war with Iran.
The top Iranian diplomat also said the United Nations Security Council Resolution 2231, which enshrines the JCPOA, does not impose any ban on Iran's missile program.
"I have negotiated every paragraph of the resolution and know better that no demand has been made from Iran to ban its missile program," Zarif pointed out.