North America
Human Rights
People rally across US to protest Rittenhouse's acquittal in murder trial
Thousands of protesters angered over the travesty of justice in the United States have staged rallies in cities across the country after Kyle Rittenhouse, a white supremacist, was acquitted of all murder charges.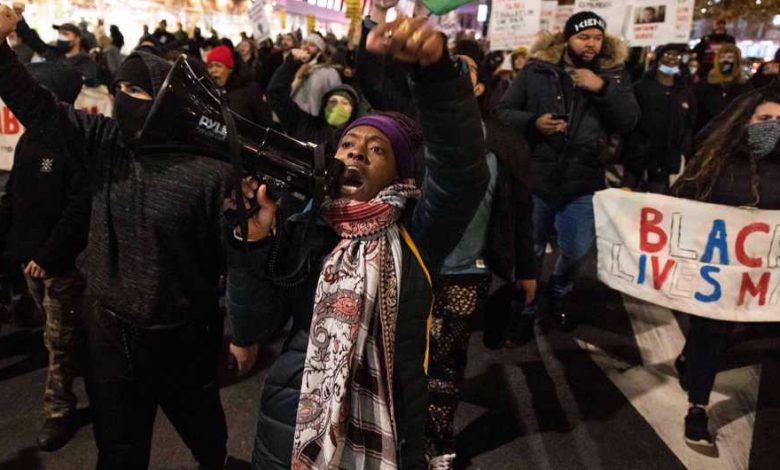 Rittenhouse was acquitted of all five counts he had faced, including two murder charges over the killings in Kenosha, Wisconsin last year.
Rittenhouse, 18, shot and killed Joseph Rosenbaum, 36, and Anthony Huber, 26, and wounded a third protester on August 25, 2020, during demonstrations on the streets of Kenosha.
Rittenhouse has maintained he shot the men because he had feared for his life. Prosecutors argued he was looking for trouble that night.
In response to his shocking acquittal on Friday, pro-justice protesters held rallies in cities across the country from New York in the east to California in the west.
"I didn't expect there to be full justice, but not guilty on all charges was a slap in the face," said Saman Waquad, 38, of Woodside, Queens.
In Columbus, Ohio, protesters upset by the verdict marched and then gathered outside the statehouse, chanting "the whole damn system is guilty as hell" and "send that killer kid to jail."
Nebraskan Senator Megan Hunt said, "Kyle Rittenhouse is a white supremacist murderer, all of the tough guy congressmen who say they want him to be their intern love it, the justice system is working just as it was designed to, and the courts continue to be debased by right wing opportunists. It is what it is.
Police declared a riot in Oregon's largest city as protesters started small fires in Oregon's capital but were quickly dispersed, according to an eyewitness, who said no tear gas or rubber bullets were fired.
Angry protesters in Portland cornered riot police into a garage on Friday night, hours after the acquittal.
After three-and-a-half days of deliberation, a jury on Friday, Rittenhouse was cleared of two counts of intentional homicide, one count of attempted homicide and two counts of recklessly endangering safety.
US President Joe Biden, who during last year's election campaign tweeted a video that appeared to link Rittenhouse to white supremacists, said he was dismayed over the verdict. However, he said he supported the court verdict and called on all to be calm.
He conceded that the verdict "will leave many Americans feeling angry and concerned, myself included, [but] we must acknowledge that the jury has spoken."
Biden added an admonition to all Americans "to express their views peacefully."