Egypt
Persian Gulf Arab regimes aid Sisi to ensure own security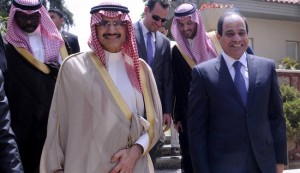 Leading Persian Gulf Arab monarchies are staunchly backing Abdel Fatah al-Sisi, Egypt's presidential frontrunner, in the hope that their generous financial help will bolster his campaign to crush the Muslim Brotherhood and indirectly secure their own regimes.
"An absence of stability in Egypt means instability in the Persian Gulf (Arab monarchies)," says Emirati political science professor Abdulkhaleq Abdulla.
Sisi "represents Egypt's only national institution that is capable of restoring stability" in his country, situated across the Red Sea from Saudi Arabia, he claimed.
Since the Sisi-led military ousted elected Islamist president Mohamed Morsi last July, the new authorities banned his Muslim Brotherhood, arrested its leaders and cracked down on its followers in a campaign that has killed more than 1,400 people.
On May 5, Sisi said the Brotherhood, also banned in many Persian Gulf countries and designated as a "terrorist organization" by Saudi Arabia, was "finished" in Egypt and would not return if he is elected.
Those were encouraging words for the absolute monarchs in the Persian Gulf, who relations with Egypt deteriorated dramatically during the rule of Morsi.
As the Brotherhood gained prominence in several Arab Spring countries, Saudi Arabia watched cautiously, while the UAE launched an unprecedented crackdown down on Brotherhood activists on its soil.
In January, it jailed a group of 30 Emiratis and Egyptians for terms of three months to five years for forming a Muslim Brotherhood cell.
At the same time, disagreement over the Brotherhood has soured relations with fellow Persian Gulf Cooperation Council member Qatar, the only country to back Morsi.
Saudi Arabia, the UAE and Bahrain all withdrew their ambassadors from Doha in March. Saudi Arabia and the UAE accused gas-rich Qatar of offering refuge to Muslim Brotherhood figures, among them dissidents from their countries.