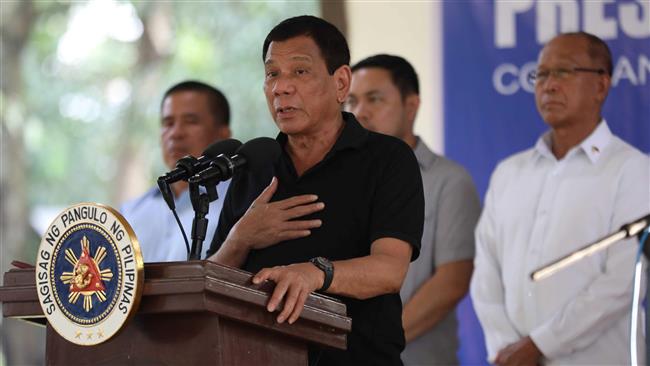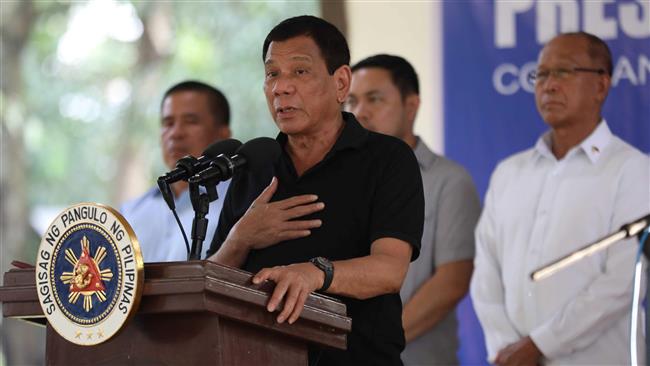 Philippine President Rodrigo Duterte has rejected claims that he asked Americans to help the Southeast Asian country's military end the Daesh-linked unrest that has been gripping its south.
"I never approached America…. I have not done that. I haven't made an appeal" to the US, Duterte told reporters at a news conference in Cagayan de Oro City, about 100 kilometers from the besieged town of Marawi on Sunday.
Duterte, who came to power a year ago, stood up against US officials who criticized him over his bloody anti-narcotics campaign. The president's drug war has been criticized by other countries and world bodies as well.
He promised, during the election campaign, to pull the plug on the illegal drugs business in the Philippines.
Duterte has also vowed to eject US military trainers and advisers from the country.
The Philippine military announced on Saturday that US forces were providing technical assistance, but had no "boots on the ground."
It is unclear whether the military sought US help without consulting Duterte.
"I didn't even know that the American government has been providing technical" support to our troops, the president exclaimed.
He, however, acknowledged that Filipino officers were trained in the United States which made them susceptible to US influence.
"Our soldiers are pro-American," Duterte admitted.
The US Embassy in Manila has, on the other hand, claimed that the Philippines' government had in fact requested support.
Meanwhile, bomb explosions were heard in Marawi City on Monday as the national flag was raised to mark Independence Day.
Filipino troops, supported by US Special Operations Forces, are battling hundreds of pro-Daesh militants who overran Marawi city on May 23.
Almost the entire population of about 200,000 fled from the lakeside town on the Philippines' southernmost island of Mindanao.
The occupation of Marawi by pro-Daesh forces was part of a wider plot to establish an independent base in the southern region of Mindanao, according to Duterte in earlier speeches.
To fight the threat, Duterte declared martial law in the southern region.
But the deployed units have been struggling to defeat the heavily-armed gunmen, who have used hostages and pre-existing bomb-proof tunnels to entrench their positions.
"As you know the target was to liberate Marawi today, June 12, but… you can see how complex the problem is and how many new developments there are," Foreign Secretary Alan Peter Cayetano told reporters in Manila.
On Sunday, the region's military chief, Lieutenant-General Carlito Galvez, told a news conference that the fight would be "most difficult, deadly, bloody, and it will take days and months to clear up."
Also, Defense Secretary Delfin Lorenzana quoted a captured militant as saying that Daesh leader, Abu Bakr al-Baghdadi, had directly "incited" the militants to occupy Marawi and establish a stronghold there.
Daesh is concentrated in Iraq and Syria where its forces have been sustaining heavy losses in recent months.