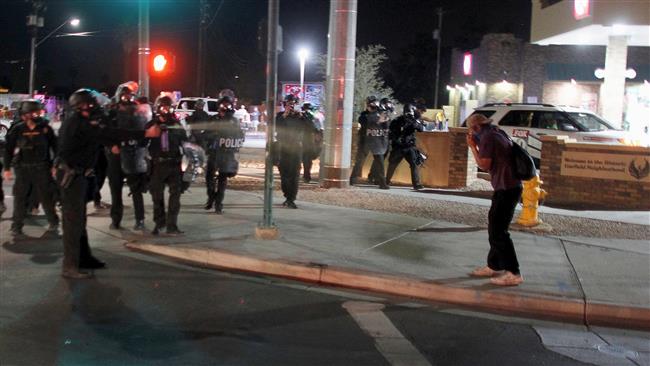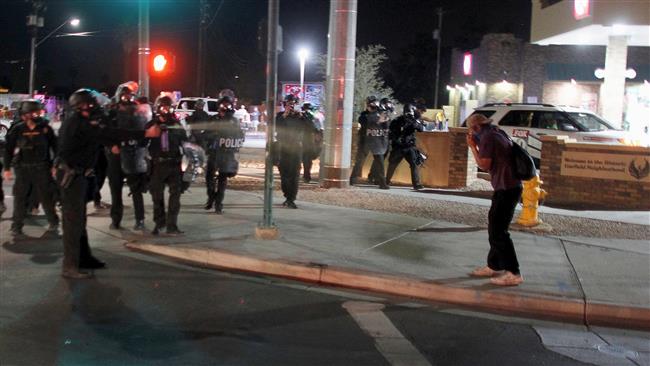 Police deployed massive amounts of pepper spray and tear gas to break a large protest in Phoenix, Arizona after a march against police brutality spiraled out of control.
Officers also fired bean bag projectiles at demonstrators who were protesting killings of two black men in Baton Rouge, Louisiana, and suburban St. Paul, Minnesota, at the hands of police earlier this week.
About a thousand people attempted to shut down the I-10 freeway in downtown Phoenix Friday night, chanting "black lives matter" and "hands up, don't shoot."
The protesters were met with a phalanx of police officers in riot gear who then unleashed waves of pepper spray to disperse the fleeing crowd.
Some protesters threw rocks at the officers and three were taken into custody.
The violence came a day after five officers were shot and killed at a peaceful protest against police brutality in Dallas, Texas.
Anti-police protests were held in several major cities across the US on Friday.
In Rochester, New York, SWAT teams faced off with protesters who were trying to block the streets. Police made 74 arrests.
Along 5,000 people marched along a highway in Atlanta, Georgia, demanding justice for Alton Sterling and Philando Castile, whose deaths spurred anger at police.
Anti-police demonstrations were held in several other cities including Baltimore, Washington DC, Philadelphia, Detroit, New Orleans, Nashville, and Baton Rouge.