Iran
Middle East
PHOTOS: Rescue efforts underway as calm returns to northwest Iran after deadly quake
Relief and rescue operations are underway in northwest Iran following a 5.9-magnitude earthquake which killed five and wounded over 350 people in East Azarbaijan province.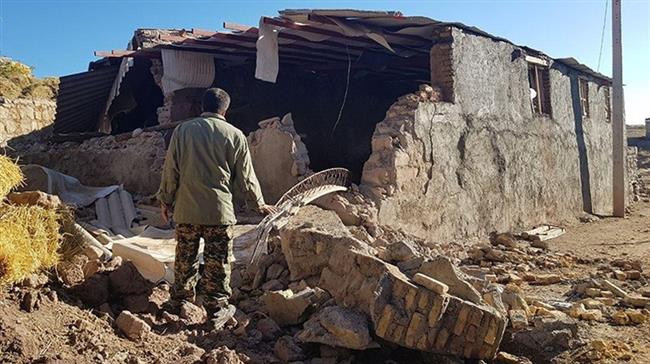 The moderate quake struck the Tark country at 2:17 a.m. (2247 GMT) Friday and was followed by more than 60 aftershocks, causing panic among residents who rushed out of their houses in the middle of the night.
"Rescue teams and helicopters have been dispatched to the quake-hit areas and hospitals are on full alert to help injured people," Iran's emergency medical services chief Pirhossein Kolivand said.
The quake had a shallow depth of 10 km. It hit the village of Varnakesh in Mianeh the hardest, where five people lost their lives and some 30 houses were destroyed, local officials said.
Many of people were injured while trying to flee their houses in panic. According to the European-Mediterranean Seismological Center (EMSC), some 20 million people felt the quake across Iran and possibly in neighboring Turkey.
President Hassan Rouhani called the local governor, ordering to allocate all means and resources to deal with the emergency. He also sent his Minister of Industry, Mines and Business Reza Rahmani to the quake-hit areas to closely monitor the situation.
Volunteer Basij forces rushed to villages shortly after the quake hit and pulled many survivors from the rubble, commander of 31st Ashura Division of the Islamic Revolution Guards Corps (IRGC) General Abedin Khorram said.
"Given that a drill was being held in Mianeh, Basij forces were immediately dispatched to the quake-hit areas and rescued the villagers who were under the debris," he told Tasnim news agency.
Army units in northwestern provinces of East Azarbaijan and Ardabil have also been put on alert for rescue and relief operations.
Iran experiences frequent seismic activity as it sits where two major tectonic plates meet.
The earthquakes have some times turned disastrous over the past years. In 2003, more than 26,000 people lost their lives following a major quake that decimated the ancient city of Bam in eastern Iran. In 1990, a 7.4-magnitude quake in northern Iran killed thousands of people.
At least three other significant quakes stuck in 2005, 2012, and 2017, which killed over 1,000 people.