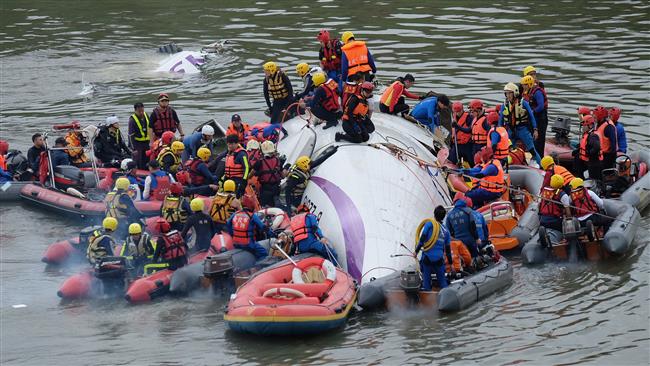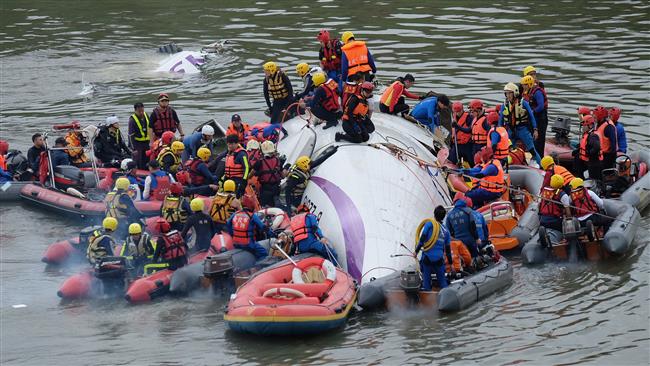 A Taiwanese passenger aircraft with 58 people on board has crashed into a river outside Taiwan's capital of Taipei, with rescue efforts underway.
The TransAsia ATR72-600 turboprop plane struck a road bridge shortly after take-off and plunged into Keelung River on Wednesday, local media reports said.
According to the reports, at least nine people are killed and some 18 people have been rescued but first-responders are attempting to reach the others still trapped inside the aircraft.
The aircraft had just departed from Taipei Songshan Airport on a domestic flight to the outlying Kinmen Island, off the coast of southeast China, Taiwan's Central News Agency (CNA) reported.
Local ETTV channel broadcast footage of the aircraft banking sharply and striking the bridge before crashing into the river.
Television images further showed images of rescue workers standing on large sections of the broken wreckage of the plane while struggling to pull passengers out of the aircraft using ropes.
A TransAsia Airways flight crashed in July 2014 during stormy weather in Taiwan's Penghu archipelago, killing 48 passengers.