Palestine
PM Haniyeh meets Rajoub and calls for investing the atmosphere of reconciliation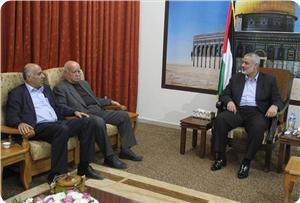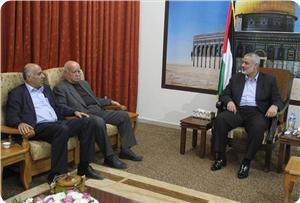 Prime Minister Ismail Haniyeh called for investing in the positive atmosphere that has prevailed Gaza and the West Bank following the Battle of the Shale Stones, in order to achieve the reconciliation.
This came in a speech delivered by Haniyeh during his meeting, on Thursday evening, with a delegation from Fatah movement that included two members of the Central Committee of Fatah, Jibril Rajoub and Dr. Zakaria al-Agha, and a number of the movement's leading figures in Gaza and the West Bank.
Gaza's Premier extended his congratulations to the delegation on Fatah's 48th anniversary, and pointed out that the decision to allow Fatah's celebration in Gaza has been taken by Hamas leaders in an attempt to open a new page in relations between the two leading factions.
For his part, Rajoub thanked the Prime Minister for the positive atmosphere accompanying the anniversary festival.
He added that the current atmosphere represents an atmosphere of national unity and must be invested in and promoted.