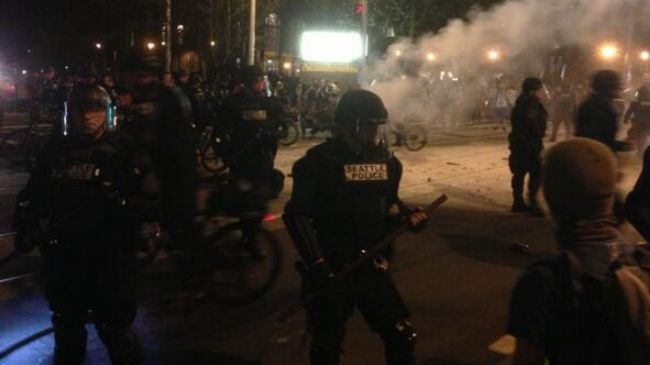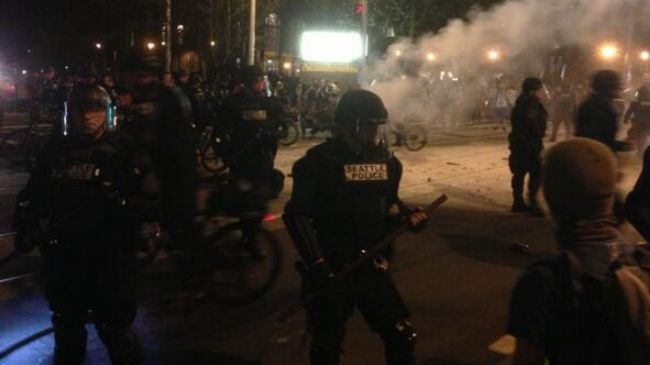 Police in the United States have arrested a number of anti-capitalist protesters on May Day, firing pepper spray to disperse the demonstrators.
Hundreds of people marched on the streets of Seattle for several hours Thursday night in support of immigration rights and a minimum wage raise.
Some protesters threw bottles at officers and later started trash can fires in Capitol Hill, according to the police.
A gun was recovered from one of the arrested protesters.
May Day violent protests have been going on for the past two years in Seattle.
Police arrested 18 people in last year's protest.
In 2012, masked marchers dressed in black broke windows and doors on downtown banks and stores and tried to set a fire at a federal building.
Similar protests were also held in Los Angeles Thursday where thousands of people rallied at several marches as part of the annual May Day marches in support of immigrant rights.
LA's march has been picking steam over the years as more people begin to speak out against America's immigration policies.
Protesters are pushing for legislation under consideration by Congress that would overhaul laws and legalize many of the estimated 11 million undocumented immigrants living in the US.