Latin America
Police, protesters clash in Chilean capital on second day of protests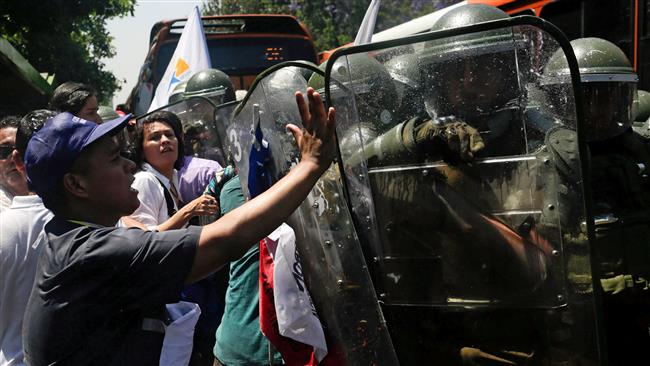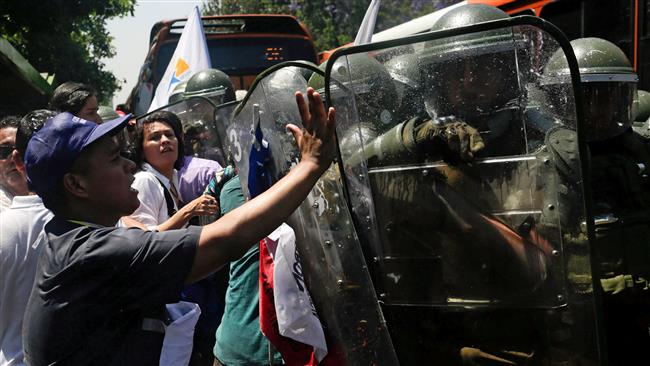 Police in Chile have clashed with protesters in the capital, Santiago, on the second day of protests against the government's rejection of proposed pay hikes.
Police forces used water cannon on Friday to disperse demonstrators from around the National Association of Public Employees (ANEF).
Demonstrators also carried banners and flags as they rallied in front of the presidential La Moneda Palace.
Protesters also blocked Alameda, the main avenue in Santiago.
Several people were arrested during the standoff.
Protests erupted after the government rejected an increase of over 7 percent to the salaries of workers, and proposed a 3.2-percent increase instead.
Members of the United Workers Central (CUT), the Confederation of Municipal Health (CONFUSAM) and others had joined the rally on Friday.
Meanwhile, Chilean Interior Minister Mario Fernandez held a meeting with the representatives of the ruling Nueva Mayoria Party on Friday in an attempt to reach a compromise with the protesters.
The center-left government of President Michelle Bachelet has been under mounting pressure by workers demanding the raise as well as by pensioners protesting against the country's pension system.
Many Chilean workers say they are not able to pay the required pension fees for retirement because their salaries are not increased annually to meet inflation rates.
Pensioners say the country's pension system does not guarantee a dignified old age and only perpetuates inequality.
Bachelet, Chile's first female president, won her second term in 2013, vowing to bring about deep reforms, but her popularity has since begun to diminish.