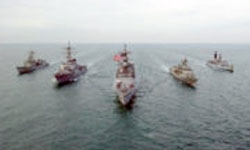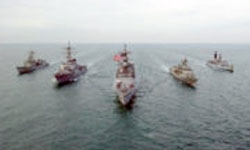 Washington has decided to deploy its 5th fleet of warships, now anchored in Juffair near Manama, in the Sea of Oman due to the volatile and critical situation in Bahrain, a Bahraini political analyst and activist said on Sunday.
The issue shows that the US is disappointed with the Al-Khalifa regime," Hassan al-Bahraini told FNA, adding that the decision implies decreasing support for the Bahraini regime.
He also reiterated that the Bahraini regime is no more capable of controlling the crisis, and added, "Despite the presence of the Saudi occupying forces, protests continue in villages as well as small towns and big cities."
Al-Bahraini said heavy military deployment of the Saudi and Bahraini forces in Manama has enabled the Bahraini regime to exercise some levels of control over the capital, but this is not true with the rest of the country.
Anti-government protesters have been holding peaceful demonstrations across Bahrain since mid-February, calling for an end to the Al Khalifa dynasty's over-40-year rule.
On March 13, Saudi Arabia and the United Arab Emirates deployed police and military forces in the kingdom upon Manama's request to quell nationwide protests.
The rallies continued on Saturday in several cities in defiance of the martial law put in place by Manama last month.
Bahrainis repeated their demand for the ouster of King Hamad bin Isa Al Khalifa and condemned Riyadh's involvement in the suppression of the revolution.
People have announced that they will continue protests until the regime collapses.