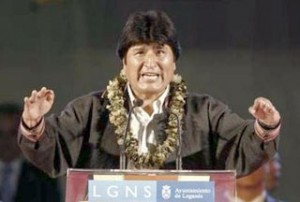 Four years after taking office, Evo Morales, Bolivia's first president of indigenous descent, appears poised for re-election with a first-round majority, according to several polls.
A year ago, Bolivia seemed haunted by the ghosts of civil war, with deep divisions between east and west, town and country, and between Morales' supporters and opponents.
Ahead of Sunday's general election, however, little remains of last year's political hostility.
Opinion polls by three different organizations show the left-wing populist Morales with at least 52 percent support, a lead of 34 percentage points or more over his closest rival, right-wing candidate Manfred Reyes Villa.
If those numbers are repeated at the ballot box, Morales, 50, will be re-elected to a five-year term.
The opposition has been campaigning more to prevent an absolute majority for Morales' Movement Towards Socialism (MAS) in the Senate, because the party is all but assured of a majority in the lower house of Congress.
Observers from the United Nations, the Organization of American States, the European Union, and other international bodies will be on hand Sunday to monitor the elections.
An estimated 52,000 military and police forces are to be deployed to guarantee voter safety.