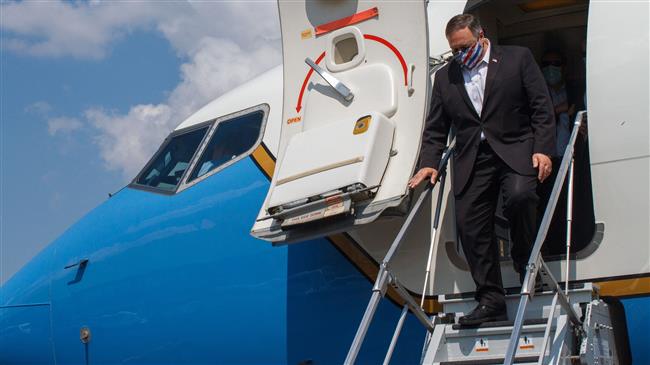 US Secretary of State Mike Pompeo has pounced on an opportunity during a South American tour, which has been blasted by Venezuelan President Nicolas Maduro as a "war-mongering" visit, to ramp up pressure on the leftist leader to resign.
During the second leg of his three-day Latin American tour, Pompeo visited on Friday a refugee center in the town of Boa Vista, Brazil, on the border with Venezuela, putting on an insincerely sympathetic face as he underlined the plight of the nearly five million Venezuelans who have been forced to leave the country due to economic crises triggered by illegal US sanctions against the government in Caracas.
"Those people I talked to today are desperate to return home," Pompeo said of the refugees being processed at the center — among the estimated 260,000 Venezuelans who have entered neighboring Brazil.
"They want what all human beings want; dignity, they want a democratic, peaceful, sovereign Venezuela to call home, one where they and their children can find jobs," he added.
Pompeo accused Maduro of destroying his own country and labeled the Venezuelan president "a drug trafficker," referring to baseless charges the US Justice Department filed against him and several of his close allies earlier this year.
"We know that the Maduro regime has decimated the people of Venezuela, and that Maduro himself is an indicted narcotics trafficker," the US diplomat claimed. "That means he has to leave."
In what was described by Caracas as the "desperation" of the "Washington elite," the US State Department indicted Maduro for 18 charges in March, alleging that he and his allies had supervised a years-long shipment of narcotics into the US.
The charges, a first of its kind against a foreign head of state, could lead to at least 10 years in prison for Maduro if he is captured by the United States.
Maduro, Venezuela's president since 2013, has been the target of a fierce overthrow campaign by Washington over the past years.
The president, who is extremely popular among Venezuela's masses, has repeatedly blamed the US administration in Washington for a series of economic problems that have beset the oil-rich Latin American country.
Venezuela, once Latin America's richest nation, has been battling hyperinflation at levels unmatched by any other country in the aftermath of US-imposed sanctions. About 2.3 million Venezuelans have left their home country since 2015.
Maduro has launched a series of economic plans in an attempt to curb the economic difficulties such as dropping five zeros from the country's old banknotes. He has also launched a plan to convince the migrants to return home.
Pompeo's 'war-mongering tour' failed
Maduro harshly rebuked Pompeo's tour on Friday, saying his efforts to rally support for his anti-Caracas policies in a visit to four South American nations had fallen through.
"Mike Pompeo is on a war-mongering tour against Venezuela, but it has backfired on him… and he has failed in all his attempts to get the governments of the continent to organize themselves in a war against Venezuela," he said in a state television address.
The Venezuelan president also censured the visit as an "election tour" aimed at destabilizing the South and garnering votes for an unpopular government.
"This is an election tour looking for votes to see if you can bother the region and find votes. It seems like the polls aren't in your favor; they're not in your favor, and they're looking for votes around Venezuela," Maduro said.
"Not you Mike Pompeo or a thousand Mike Pompeos can bring war to South America. Venezuela will continue on its path to peace, progress, and freedom," he added.
Venezuela experienced political turmoil when opposition figure Juan Guaido unilaterally declared himself "interim president" of the country in January last year. Guaido, who was immediately recognized by the administration of US President Donald Trump, later staged a botched coup against the Venezuelan government.
Ever since, Washington has imposed several rounds of crippling sanctions against the oil-rich South American country aimed at ousting Maduro and replacing him with Guaido.
The sanctions, which include the illegal confiscation of Venezuelan assets abroad and an economic blockade, have caused enormous suffering for millions of people in the country.