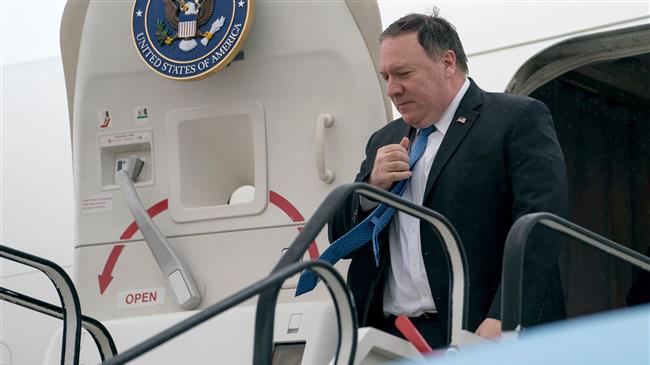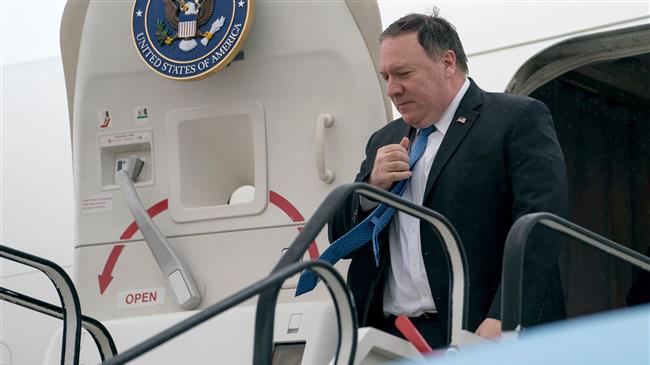 US Secretary of State Mike Pompeo is reportedly set to meet with senior British, French and German officials on the sidelines of a NATO summit in an attempt to persuade them to join Washington in pressuring Iran.
Pompeo arrived for the summit in Brussels on Tuesday, and will meet with the three countries' political directors on Wednesday or Thursday, Reuters reported, citing an unnamed senior official with the US State Department.
He would be trying to assure Paris, London and Berlin of "alternative oil supplies" in case of a boycott of Iranian oil sales, according to the report.
The US has warned third countries against buying Iranian crude as of November 4 amid a rise in Washington's attempts to choke the Islamic Republic oil revenue.
Separately, the US is seeking to ensure anti-Iran pressure from its allies on the Persian Gulf's coasts.
Earlier in the month, a statement released by the Saudi cabinet after a meeting chaired by Saudi King Salman said that the kingdom, which is one of the US's strongest regional allies, would be increasing its output to make up for the Iranian crude.
Most recently, senior US State Department officials completed three days of talks on Iran in Saudi Arabia, and "discussed new ways to deprive th'se regime of revenues," Reuters cited a State Department official as saying to reporters while traveling on Pompeo's plane.
"In our meeting with the Saudi energy minister, we discussed maintaining a well-stocked oil market to guard against volatility," he said, adding, "We talked about minimizing market disruptions and helping partners find alternatives to Iran oil."
Before heading to Brussles, Pompeo, himself, was in Abu Dhabi, where he likewise tried to rally more support against Tehran.
Back in May, the US pulled out of a multilateral nuclear agreement with Iran, and said it would be reinstating its sanctions against Tehran.
Washington has threatened the countries potentially maintaining business with Iran despite the US's bans with "secondary sanctions."
The other signatories to the accord, which include Russia, China, the UK, France and Germany, however, have strongly objected to the US's withdrawal, and vowed to try to preserve the deal.
Tehran has said the European parties to the nuclear deal, which are close US allies, need to provide Iran with practical guarantees that its economic dividends from the agreement would remain intact with the return of American sanctions.
'Pompeo will fail'
Speaking to Press TV, author and political scientist Kaveh Afrasiabi, however, played down Pompeo's drive, saying his efforts will likely fail to produce any result.
"The US…has isolated itself by unilaterally exiting the JCPOA and the Europeans have made a resolute effort to preserve the JCPOA," he added, referring to the Joint Comprehensive Plan of Action, the official name of the nuclear agreement.
He said "the American course of diplomacy and trying to bully the allies into something that they don't want to" are "against their national interest," adding that such a policy "is simply uncivilized and a barbarian way of conducting global diplomacy."
He also said Pompeo was "very slowly to learn the ropes of diplomacy" by considering requests for exemption from the US sanctions by the countries receiving the Iranian oil.