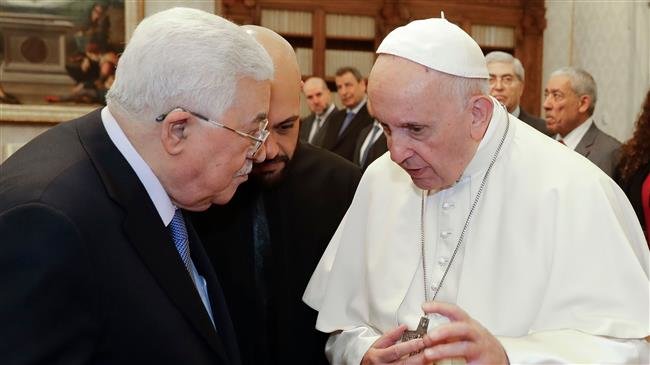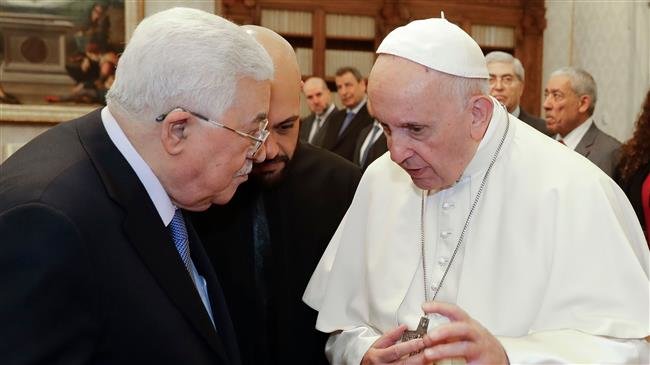 In a meeting with visiting Palestinian President Mahmoud Abbas, Pope Francis has expressed his concern about the status of Jerusalem al-Quds, months after the US recognized the occupied Palestinian city as Israel's "capital" in defiance of widespread international criticism.
The two met at the Vatican's Apostolic Palace on Monday, with Abbas briefing the Holy See on "the implications of the US decision" last year, the Palestinian news agency WAFA reported.
Washington's move shocked the international community, flying in the face of the Palestinians' demand that the city's eastern part serve as the capital of their future state.
The Palestinian Authority, in return, stopped recognizing any mediating role by Washington, which not only remained defiant, but also relocated the US Embassy from Tel Aviv to al-Quds.
The city hosts al-Aqsa Mosque's compound, Islam's holiest site, and is also of religious significance to Christians and Jews.
During the meeting, "particular attention was reserved for the status of Jerusalem, underlining the importance of recognizing and preserving its identity and the universal value of the holy City for the three Abrahamic religions," a Vatican statement said, referring to Islam, Christianity and Judaism.
Last year, the Vatican reacted to US President Donald Trump's contentious policy shift on Jerusalem al-Quds, saying the city's "status quo" had to be respected.
Israel seized the entire Palestinian territory of the West Bank, including East al-Quds, in 1967. The international law considers the territory as occupied and views the regime's construction activities there as illegal.
Abbas also told Pope Francis, "We pray for peace this Christmas season and we trust you," Turkey's Anadolu news agency reported.