Syria
President al-Assad affirmed resisting the aggression on Syria and supporting the resistance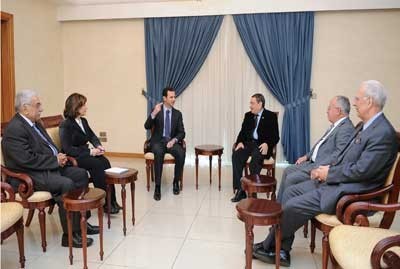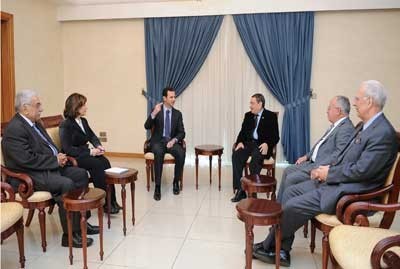 President Bashar al-Assad on Monday said that boosting the pan-Arab issue and adhering to the Arab and national mentality is the only solution to the problems which encounter the Arab world today.
"Nationalism is the most comprehensive doctrine which contains different spectrums and trends in the face of intellectual, culture destructive invasion that targets the Arab societies." President al-Assad affirmed at a meeting with a delegation of the Arab-International Forum on resisting the aggression on Syria and supporting the resistance.
For their part, members of the visiting delegation expressed confidence that the Syrian people who embrace their heroic army will impose their will in confronting the Zionist-US projects aiming at striking stability and weakening countries of the region.
The delegation comprises Head of the Arab-International center for rapprochement and solidarity Maan Bashour, Deputy Secretary General of Arab Lawyers' Union Abdul-Azem al-Maghribi, former Secretary General of the Arab National Congress Khaled al-Sufiani and Secretary General of the Arab National Forum Ziad al-Hafez. Presidential Political and Media Advisor Bouthina Shaaban attended the meeting.
Source: Breaking News Network – SANA