Syria
President al-Assad: Any Initiative or Political Process Should Be Essentially Based on Principle of Halting Terrorism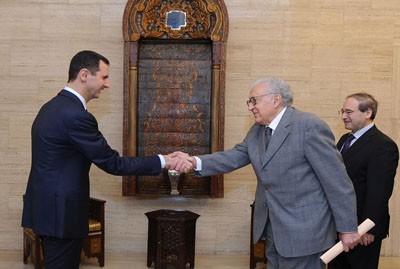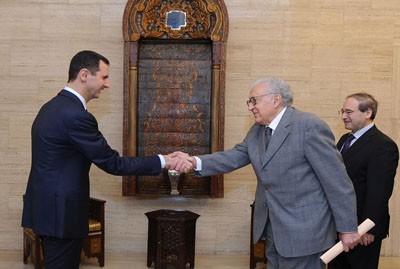 President Bashar al-Assad on Sunday stressed that Syria supports the efforts of the UN envoy to Syria and is open to any sincere efforts seeking to find a political solution to the crisis based on respecting Syria's sovereignty and rejecting any foreign interference.
The President's stress came during his meeting with the UN envoy to Syria, Lakhdar Brahimi, which tackled the developments in Syria and the efforts exerted by Brahimi and the outcomes of his latest tour to a number of countries in the region.
President al-Assad clarified that any initiative or political process should be essentially based on the principle of halting terrorism and what is required in this regard from the countries involved in supporting, arming and harboring the terrorists in Syria to halt such acts.
The meeting was attended by Deputy Prime Minister, Foreign and Expatriates Minister Walid al-Moallem, Presidential Political and Media Advisor, Dr. Bouthaina Shaaban, Deputy Foreign and Expatriates Minister, Fayssal Mikdad, Assistant Foreign and Expatriates Minister, Ahmad Arnous, and Head of Foreign Media Department at the Ministry, Jihad Makdissi.
Brahimi: Meeting Was Open and Responsible as Usual
Later, in a statement to the journalists following his meeting with President al-Assad, Brahimi described the meeting as "open and responsible as usual".
He said the meeting tackled the issues related to the Syrian situation "with us looking forward to the future which we hope will end up in solving the crisis in Syria and restoring peace and security to it."
"I talked with President al-Assad about halting the fighting during the Eid, and I also talked with all those whom I met inside and outside Syria about this personal initiative which isn't an advanced project or part of the peace process which we seek for this country," the UN envoy told the journalists.
Brahimi: My Only Agenda Is Serving the Syrians
He considered that "if each of the parties would take a decision on its own, then there would be a collective decision on the non-use of arms during the Eid."
Brahimi noted that this idea of his had the support of the opposition parties abroad and the officials in the neighboring countries whom he met.
He said that being in charge, he hasn't got any other agenda except that of serving the Syrian people, wishing them a blessed Eid.
"I'll come back after the Eid. If there was calm during it, we would build on it, and even it there wasn't, we would work to realize calm," Brahimi pointed out, expressing hope that the door to ease for the Syrian people will open.
Answering a question regarding him having a long-winded plan or a ready paper, Brahimi said "We are working on getting this paper prepared with the various internal and external parties."
He added that the Syrian people expects something more than this days-long armistice and they have the right to this, noting that "What we can promise to do is to work tirelessly to achieve the aspirations of the Syrian people."
Asked on whether he had guarantees from the armed groups on commitment to halt fighting, the UN envoy said "this call doesn't require prearranged guarantees as guarantees are promises by the people to halt the fighting. Therefore, they either commit themselves and their conscience to do so, or otherwise if they didn't, then it is the Syrian people who would hold them accountable."