Syria
President al-Assad Meets Delegation of Muslim Scholars Gathering of Lebanon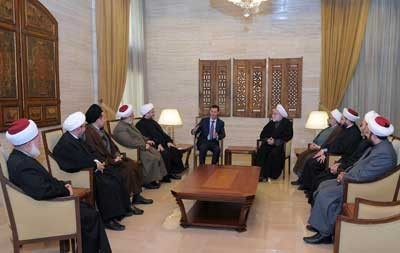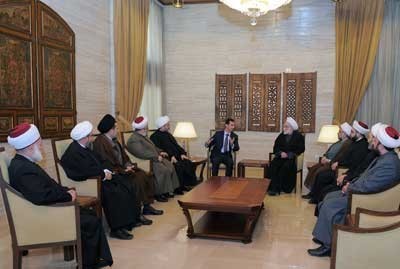 President Bashar al-Assad on Wednesday received a delegation of the Muslim Scholars Gathering of Lebanon and discussed with them the events in Syria and their repercussions at the regional and international levels.
The delegation members expressed their denunciation of the plots against Syria that aim to undermine its security and stability, stressing their complete rejection of the Arab League decisions targeted against the Syrian citizens.
They considered that Syria is targeted because of its stance in support of the Resistance and the Arab rights, affirming their standing by the Syrian people to overcome the current crisis their country is going through.
Head of Trustees Council of the Gathering, Sheikh Ahmad el-Zein , told SANA that the meeting with President al-Assad was excellent and reassuring, indicating that Syria will come out stronger from the crisis and will defeat the conspiracy targeting its national role.
El-Zein said that the delegation stressed to President al-Assad their standing by Syria in the face of the conspiracy, adding that Syria is targeted by the US administration and world Zionism due to its anti-Israeli stances and rejection of US dictates.
For his part, Sheikh Hassan Abdullah, Head of the Administrative Body in the Muslim Scholars Gathering, said that the talks during the meeting dealt with the issues of interest on the Syrian and Lebanese arenas, denouncing the Arab League decisions against Syria.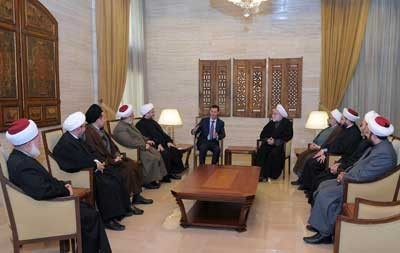 For his part, Sheikh Zuhair J'eid, general coordinator of the Gathering, said "We found President al-Assad firm as he has always been, and can lead Syria to safety and defeat the conspiracy, for he knows that what Syria is facing is stronger than what Lebanon experienced during the Israeli aggression in July 2006."
J'eid said that the situation in Syria is fine due to the Syrians' standing by their leadership and army, indicating that President al-Assad is determined to push ahead with reforms.
Sheikh Abdul-Nassser Jabri, member of the Gathering, hailed the outcomes of the meeting with President al-Assad , voicing trust that the conspiracy against Syria will be foiled. H. Said/M. Ismael