Middle East
North America
President Aoun to US Delegation: Lebanon Maintains Sovereignty over Land, Waters
Lebanese President Michel Aoun on Wednesday told head of the United States' delegation mediating in indirect negotiations to demarcate southern maritime borders that Lebanon maintains its sovereignty over its land and waters.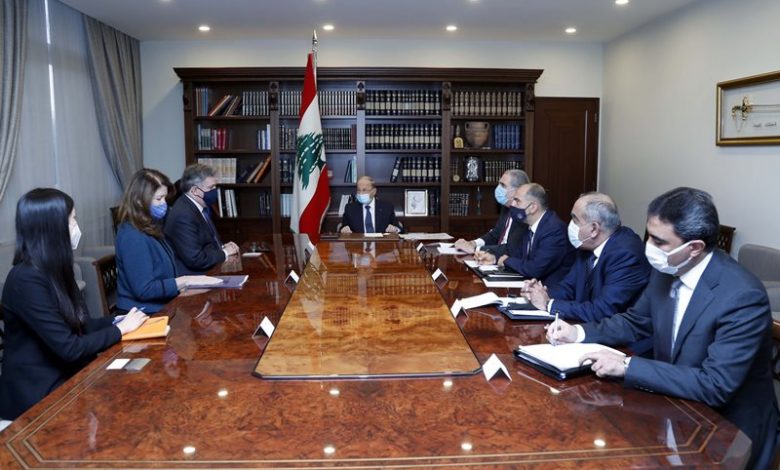 In a meeting with the delegation at Baabda Presidential Palace, President Aoun voices Lebanon's willingness to facilitate the success of the talks.
"Lebanon maintains its sovereignty over its land and waters, and wants the maritime demarcation negotiations to succeed to enhance stability in the south, and enable the investment in natural resources, such as gas and oil," Aoun told Ambassador John Deroche.
"The difficulties which emerged in the last negotiations round can be overcome through in-depth research based on international rights, articles of the law of the sea and all the legal texts thereof," the president was quoted as saying by National News Agency.
In addition, Aoun stated that the Lebanese negotiating delegation has clear instructions to negotiate on that basis, asserting the need "To continue negotiations in order to achieve the goal of conducting them, and if this fails, for any reason, other alternatives can be studied".
For his part, Ambassador Deroche tackled the stages which the negotiation process had completed and the US role, wishing that negotiations would continue in the interest of all.
US Ambassador in Beirut, Dorothy Shea, and Political Adviser, Audrey Kiranen, attended the meeting on the American side.
On the Lebanese side, former Minister, Salim Jreisatti, Presidency Director-General, Dr. Antoine Choucair, and Advisers: Brigadier General, Paul Matar, and Osama Khachab attended, NNA reported.
Source: Almanar