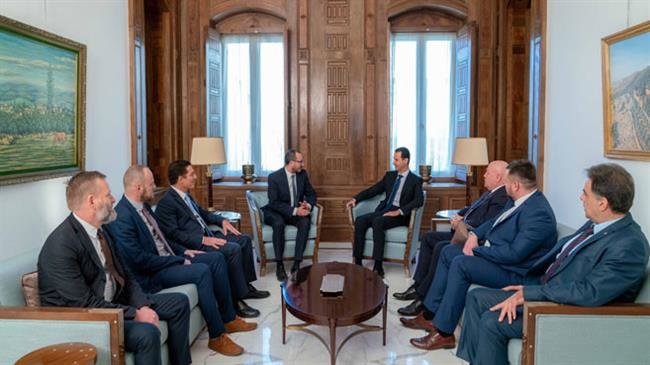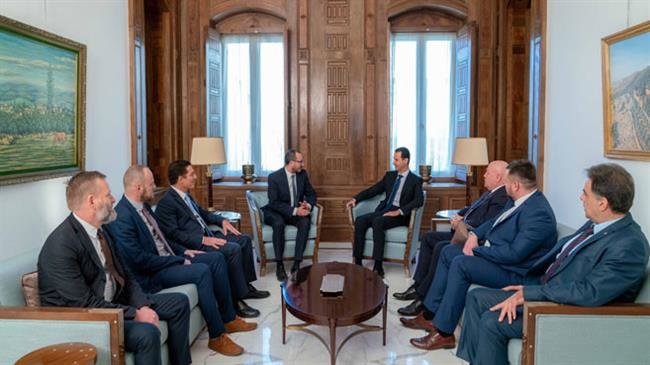 President Bashar al-Assad has urged European countries to come and take a closer look at the developments in his country as their approaches to Syria are totally "divorced from reality."
"One of the biggest mistakes made by many European countries is separation from reality," Assad said in a Thursday meeting with a Polish delegation visiting the Arab country.
He hailed the European delegation's visit to Damascus and said making such visits to gain a closer knowledge is the most important step for foreign governments to build a correct and realistic policy.
According to Assad, such visits help foreign states adopt positions and stances, which serve the interests of their people and contribute to their protection, the official Syrian Arab News Agency (SANA) reported.
He briefed the Polish delegation on the war, which Syrians have been facing for more than seven years, and explained that the tools of the conflict have ranged from terrorism, direct aggression, and economic sanctions to attempts to intervene in the country's internal affairs and imposing isolation and siege.
The Syrian president also welcomed the Polish delegation's idea of establishing a joint parliamentary committee and expansion of bilateral cultural exchanges, stressing that Damascus is open to any efforts that will build good relations between people.
In turn, the Polish delegation headed by MP Pavel Skutitsky stressed that the main purpose of their visit to Syria was to take a closer look at the latest developments.
They said the war and the achievements made by Syria against terrorist organizations have contributed to staving off terrorism that could have been transported to the neighboring countries and to Europe later.
They also expressed hope that the Syrian state would fully eradicate terrorism and regain control over all of its territory.
The European delegation's visit to Syria came a couple of days after the Arab country strongly denounced sanctions imposed on it by the European Union, saying the bans were harming the Syrian people.
Syria's UN Ambassador Bashar al-Ja'afari told a Security Council session on Monday that foreign-backed Takfiri terrorists and the sanctions imposed by the US and the EU were inflicting suffering on the Syrian people.
Damascus has frequently blasted the US and EU for imposing sanctions against several Syrian nationals.
On May 28, the EU extended its restrictive measures against the Damascus government until June 1, 2019.
The sanctions currently in place against Syria include an oil embargo, restrictions on certain investments and a freeze of the assets of the Syrian central bank held in the EU.
The EU bans are also in place on dozens of companies linked to the government of President Assad.
Syria has been gripped by foreign-backed militancy since March 2011. The Syrian government says the Israeli regime and its Western and regional allies are aiding Takfiri terrorist groups wreaking havoc in the country.