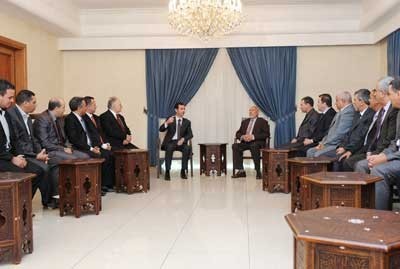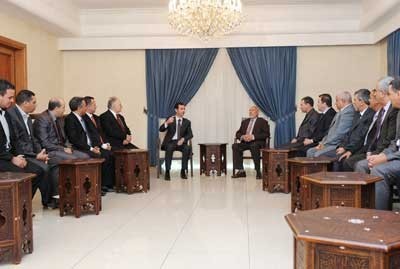 President Bashar al-Assad on Wednesday met a delegation from the Algerian National Committee for Supporting the Steadfastness Assad-Algerian Delegationof Syria, which comprises Algerian political, media and academic figures and is chaired by head of the committee Ramadan Boudla'a, SANA reported.
During the meeting, President Assad affirmed that the Algerian people's support for Syria is not unusual for this people, particularly since the Algerian people have had a very similar experience to what the Syrians are experiencing now in confronting terrorism, adding that the Syrian and Algerian people share an honorable history of confronting colonialism.
President Assad said that what is happening in the region affirms the need for uniting the efforts of Arab elite figures and nationalist to create an intellectual deterrent capable of protecting pan-Arabism and nationalism and confronting changes and foreign and takfiri plots targeting Arabs' present and future.
For their part, members of the delegation affirmed that the Algerian people support the steadfastness of the Syrian army and people in the face of terrorism and plots of sedition and division which are backed by regional and international sides, stressing that these projects target all Arabs, not just Syrians.
They also voiced confidence that Syria, the symbol of resistance and the first defender of Arab causes and interests, will be victorious.