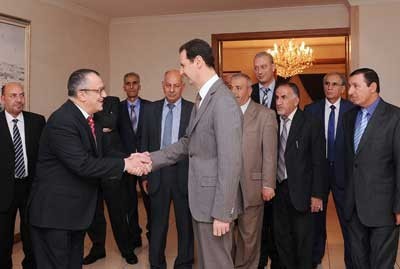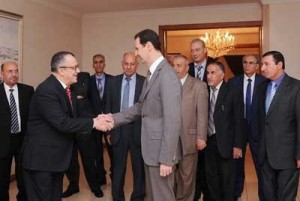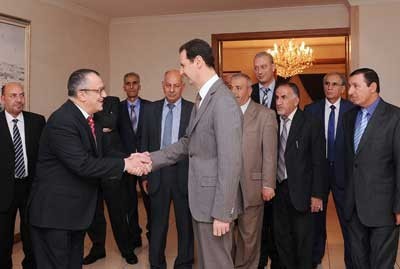 President Bashar al-Assad on Tuesday received a delegationPresident Assad from the Jordanian Foreign Affairs Council for Regulating Popular Diplomacy, headed by Nahedd Hatar.
During the meeting, President al-Assad affirmed the importance of popular delegations which encompass intellectual elites and popular demographics in creating a popular movement on the Arab arena, which is essential for confronting plots targeting the region's people.
President al-Assad asserted that despite the aggressive war targeting them, the Syrian people will always stand alongside their brethren in Jordan and support their struggle to preserve the Jordanian national identity and state.
He reiterated Syria's rejection of the plots in the region that seek to consecrate Israel as a Jewish state, which is the goal of the plan of US State Secretary John Kerry that involves removing the Arab people of Palestine and liquidating the Palestinian cause at the expense of Palestine and Jordan.
For their part, the Council members said that Syria's steadfastness is an essential cornerstone for foiling the conspiracy targeting Arab states, because what the Syrian people are facing is a prelude for realizing western projects in the region, including the project of finding a replacement homeland for the Palestinians and terminating their right to return.
The members said that the goal of the Council is to rally Arab public opinion against terrorism, not just in Syria, but across the region, stressing that the Jordanian people will never accept any infringement upon Syria and its course.