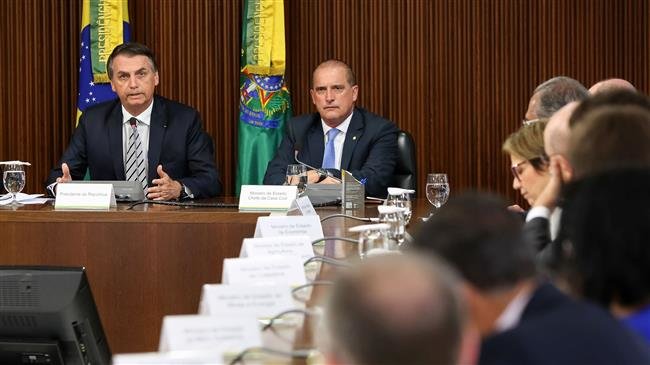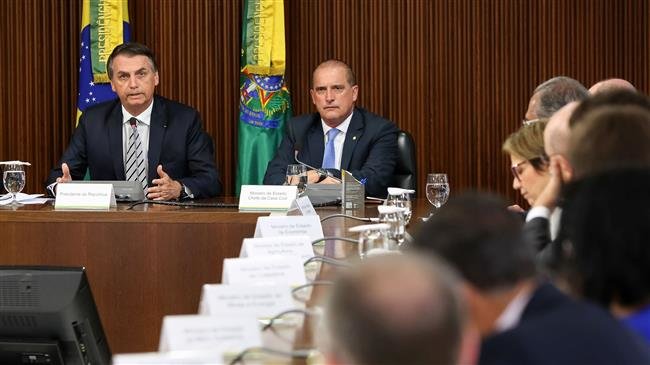 Brazil's new far-right President Jair Bolsonaro says he is open to discussing the possibility of hosting a US military base, underlining a major shift in the Latin American country's foreign policy.
Bolsonaro, who took office earlier this week, claimed that Russia's support of President Nicolas Maduro's "dictatorship" in neighboring Venezuela was a worrying development.
The 63-year-old former Army captain told the SBT TV network in an interview taped on Thursday that if "Moscow's increasing support" of Maduro meant he would allow US military presence in his country, he would certainly be willing to negotiate that possibility.
He stressed that what Brazil seeks is to have "supremacy here in South America", upending foreign policy in the country, which saw the leftist Workers Party emphasizing South-South relations and sometimes tussling on the international stage with the US.
Bolsonaro said he supported Washington's policy with regard to opposing the "authoritarian regimes" of left-wing governments in Cuba, Nicaragua and Venezuela.
An admirer of both Brazil's 1964 to 1985 military dictatorship and US President Donald Trump, Bolsonaro has quickly deepened ties with the Unites States and Israel. This has concerned Brazil's leftist leaders who had, for 13 years, been making efforts to build relationships with Brazil's South American neighbors and other developing countries before losing to Bolsonaro.
Russia lands two nuclear-capable bombers in Venezuela as part of a joint training exercise aimed at shoring up President Nicolás Maduro's position.
'Logistical considerations on Bolsonaro's way to relocate embassy in Israel' 
The Brazilian president, who is also known as "Tropical Trump" due to following the US president's steps, has also sparked controversy by following Trump on relocating his country's embassy in Israel to the occupied Jerusalm al-Quds.
Trump recognized the occupied city as Israel's so-called capital and officially opened the US embassy in the city in May, sparking international outrage.
Jerusalem al-Quds was occupied by the Tel Aviv regime during the Six-Day War in the 1967, and is deemed the capital of a future Palestinian independent state.
Boslonaro's national security adviser, Augusto Heleno, confirmed earlier on Thursday that the president stuck with the idea of the embassy relocation, but that logistical considerations were standing in the way.
Heleno did not elaborate further, but many in the country have already raised concerns about the plan, saying the move would hurt the country's relations with Muslim nations.
The Arab League has warned the Brazilian leader that the move would be a setback for relations with Arab countries.
Bolsonaro hosted Israeli Prime Minister Benjamine Netanyahu late last month, but neither of the men mentioned plans to move the embassy from Tel Aviv to the occupied city.
If Bolsonaro follows through the plan, the Latin American country would become the third nation – after the US and Guatemala – to have an embassy in the highly sensitive city which is the third holiest Muslim site.