Iran
Middle East
North America
President-elect: US must return to nuclear deal with Iran, fulfill its commitments under accord
Iran's President-elect Ebrahim Raeisi says the United States must return to full compliance with the 2015 landmark nuclear deal with Iran, officially known as the Joint Comprehensive Plan of Action (JCPOA), and fulfill its commitments as per the accord.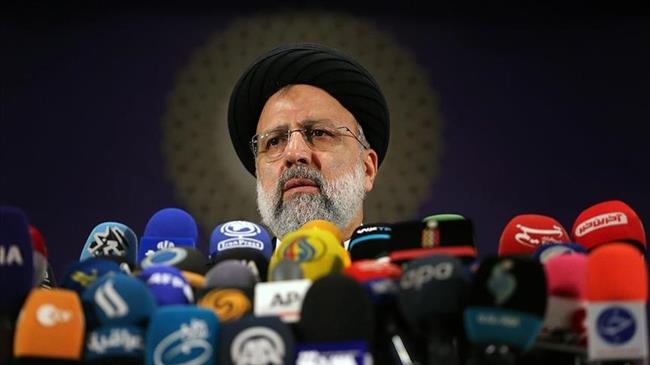 Raeisi made the remarks during his first press briefing attended by representatives of domestic and foreign media outlets on Monday, following his election as Iran's next president.
Asked what message he had for the United States and Europe, Iran's president-elect said, "I emphatically urge the United States to return to the JCPOA and comply with its commitment. The Iranian people expect you to abide by your obligations."
"European countries and the United States must look and see what they have done to the JCPOA. The United States violated the JCPOA while European countries [who were parties to the JCPOA] failed to comply with their obligations," Raeisi said.
"We tell the United States that you have to remove all sanctions [imposed on Iran] and must return [to the nuclear deal] and fulfill your obligations. Europeans must not be influenced by the US pressure and must act upon their commitments. This is what the Iranian nation wants from you," Iran's president-elect said.
'Removal of sanctions followed by verification, pivot of our foreign policy'
Elsewhere in his interview, Raeisi said the main focus of his administration's foreign policy will be to make sure about complete removal of unilateral sanctions imposed by the United States after Washington's illegal withdrawal from the nuclear deal with Tehran, followed by verification of sanctions removal.
"The United States must respond to the world. It has been frequently emphasized [by Iran] that the United States must comply with its obligations and remove all cruel sanctions [it has imposed on Iran]," Raeisi emphasized.
"The Iranian nation is not satisfied with the JCPOA, because it has failed to deliver on its promises and the reason is that Americans violated their obligations while Europeans failed to observe theirs as well."
He said the United States' "maximum pressure" campaign against Iran has failed to bring the Iranian nation to their knees.
The US, under former President Donald Trump, left the JCPOA in 2018 and initiated a "maximum pressure" policy against Iran, prompting Tehran to take remedial measures by gradually reducing its nuclear commitments under the deal.
President Joe Biden has said Washington is willing to return to the pact if Tehran first suspends its countermeasures taken in response to US violations and re-impostion of sanctions.
Iran says the onus is on the US to revive the deal as it was Washington, not Tehran, that left the internationally recognized accord in defiance of global criticism.