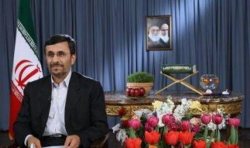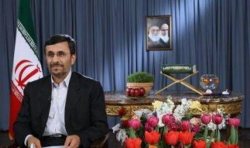 President Mahmoud Ahmadinejad congratulated all Iranians around the world Tuesday on the occasion of beginning of the new Iranian calendar year (1391).
In a message published on the occasion, the President said that the agenda for his government in the new Iranian year 'is to support national production, exports, capital and labor."
President Ahmadinejad described last year as a year, 'full of ups and downs, prosperities, joys and victories' for Iranians and the entire world.
"Last year, government started an accelerated move towards economic, scientific, industrial, technological and political development. It would continue the move this year with further momentum. This year the government is committed to support national production and exports as well as Iran's capital and labor," President Ahmadinejad stressed.
'We would always stand by the people, in good times and bad times,' said the President.
He referred to Nowruz as a time for 'returning to good and avoiding evils.'
Iran's calendar year runs from mid-March to mid-March. The new year, Nowruz in Persian, marks the transition from winter to spring.