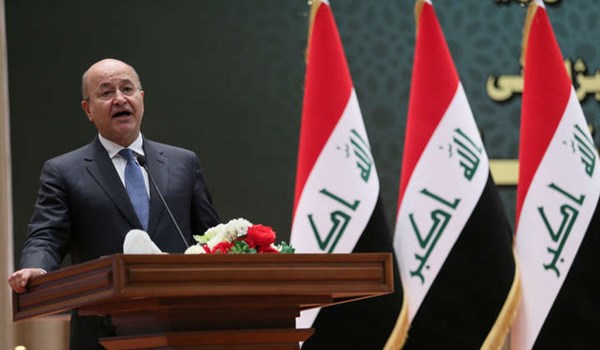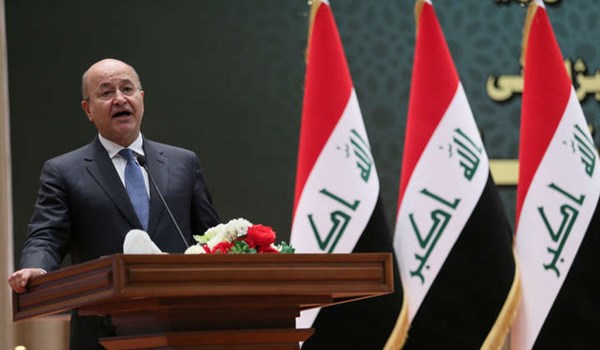 "Certainly, Iraq will not be a part of the mechanism to impose sanctions or implement any hostile policies against Iran," Salih said during the meeting in Tehran on Saturday.
He also stressed the necessity for the further consolidation of cooperation with Iran in war on terrorism and Takfiri extremism in the region.
President Rouhani, for his part, stressed the need for the facilitation of joint ventures and development of trade relations between the two countries, and expressed the hope that bilateral trade ties would increase to $20bln annually.
He referred to the US brutal sanctions against Iran, and said the stances adopted by Iraqi officials prove that Washington may not be able to use Baghdad for exercising its schemes against Tehran. "Now, it has been proved that the Americans never enjoyed the power they imagined and they should know that Iran and Iraq have age-old and profound ties with each other."
President Rouhani also said that Iran and Iraq can play a significant role in promoting peace and stability in the region.
Iran is currently Iraq's top trade partner, with an annual turnover standing at about $12 billion.
Foodstuff, livestock, construction materials and plastic products constitute the bulk of Iran's exports to Iraq where Iranian vehicles and food items are a ubiquitous sight.
Iran and Iraq have also been exchanging oil through a swap deal under which crude from the Kirkuk field in northern Iraq is shipped by truck to Iran, which uses it in its refineries and delivers the same amount of oil to Iraq's southern ports.
In relevant remarks in October, President Salih voiced his country's willingness to broaden bilateral relations with Iran in different fields, and said it is in Baghdad's best interests to have friendly and stable ties with Iran.
"Iran is a neighboring country and our interest lies in having good and stable relations with Iran," Barham Salih told reporters during a visit to Kuwait.
The Iraqi president pointed to age-old relations between Baghdad and Tehran, and said, "There are vast areas that the two countries can increase their cooperation."