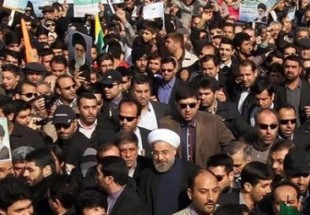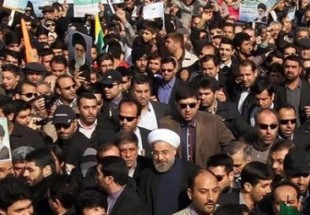 President Hassan Rouhani on Thursday joined the people in the Iranian capital attending rallies to mark the 37th victory anniversary of the Islamic Revolution.
Later in the day, President Rouhani and Louis Farrakhan, the leader of the US-based Nation of Islam (NOI) who is among the foreign guests of the event, are to address the people.
People from all walks of life have taken to the streets of Tehran and other Iranian cities to commemorate the occasion.
The Revolution marking rallies are being held in more than 1,000 cities and over 4,000 villages of the country.
More than 5,200 Iranian and foreign reporters, photojournalists and camerapersons are covering the nationwide event.
More than 450 foreign guests, mainly scientific and distinguished political figures are present at this year's celebrations from different countries, including, Germany, France, Spain, Belgium, Croatia and Netherland.
Later in the day, a new domestic-made drone named Shahed-129 is to be unveiled in the Revolution anniversary ceremony.
Chairman of the Expediency council Ayatollah Akbar Hashemi Rafsanjani, Vice-Chairman of the Experts Assembly Ayatollah Mahmoud Hashemi Shahroudi and Judiciary Chief Ayatollah Sadeq Amoli Larijani have also participated in the rallies.