Latin America
World News
President Maduro ratifies Padrino as Venezuela's defense minister
Venezuelan President Nicolas Maduro has reinstated Vladimir Padrino as defense minister who oversaw a US-led attempt to engineer a military coup against the country fall flat.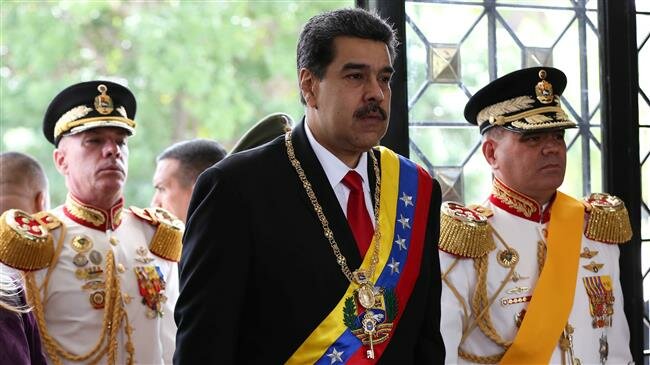 Maduro broke the news during a military ceremony, which was broadcast on television on Sunday.
"I've decided to ratify … Vladimir Padrino as minister so that he can continue to shine with his disposition, his intelligence, with his military leadership," he said.
The military under Padrino's rule has remained loyal to the elected government of Maduro during months of street demonstrations and a botched coup attempts by the opposition.
The country plunged into a political crisis after opposition figure Juan Guaido unilaterally declared himself "interim president" of Venezuela in January.
He orchestrated a coup against the government on April 30 during which a small group of armed troops accompanying him clashed with soldiers in the capital, Caracas.
Venezuela forces hold parade as Russia vows support Venezuelan President Nicolas Maduro reiterates his call for dialogue to end the political stalemate with the country's US-backed opposition figure Juan Guaido.
That attempt quickly failed, and some 25 renegade soldiers sought refuge at the Brazilian Embassy in Caracas.
Ever since, Padrino has publicly professed loyalty to Maduro along with the majority of the armed forces. Earlier this month, Maduro said security forces had foiled another coup attempt.
In the meantime, the US which wasted no time in recognizing Guaido as "interim president," has repeatedly threatened the oil-rich country with military action.
During a parade, which marked the 208th year of Venezuela's independence from Spain on Friday, Maduro renewed his support for negotiation process mediated by Norway between his government and the opposition.
Venezuela's Maduro says peace will come by year-end Venezuelan President Nicolas Maduro says a peace agreement with the opposition is certain to be reached until the end of the year.
Guaido, however, rejected what he claimed was Maduro's "dictatorship" and called on the Venezuelan military to join his movement at the same day of the parade.
Both Maduro and Guaido have sent representatives to a round of talks in Norway, which started mediating between the two sides, in May. But the negotiations have failed to resolve differences.
Talks to resume this week
According to the parties involved in the negotiations, the opposition will meet with Maduro's representatives in Barbados.
Norway's government also announced in a statement that the talks would be resumed this week.
"The parties will meet this week in Barbados to move forward in the search for an agreed-upon and constitutional solution for the country," the Norwegian foreign ministry said in a statement late on Sunday.
Defense Minister Padrino is among the top officials involved in the negotiations.