Iran
Middle East
World News
President Raps US Anti-Human Crimes against Iran, Praises Neighbors
Iranian President Hassan Rouhani lashed out at the US for imposing sanctions on food and drug supplies to Iran, and meantime, appreciated the neighboring and friendly states for cooperation with Tehran.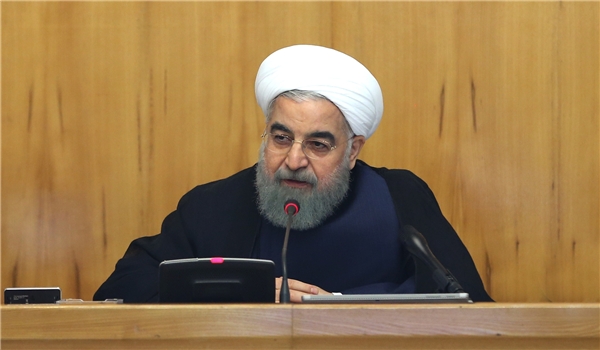 "The US government has committed anti-human crime and its measure is an act of economic terrorism," President Rouhani said, addressing a forum in Tehran on Tuesday.
He, meantime, underlined Iran's efforts to move towards full self-sufficiency in production of medicine, and said, "We produce over 95% of drugs in our country."
Rouhani appreciated the friendly and neighboring states for standing beside Iran in hard conditions of the US sanctions, and said, "Our friends and the friendly states in the region have not forgotten us and they respect the US verbally but work with us in practice."
Less than a year ago in November, President Rouhani said American officials had admitted their incapability to stop Iran's crude sales, adding that the US sanctions would only leave negative impacts on imports of foodstuff, medicine and medical equipment.
"What the Iranian officials said that the US is not able to zero Iran's oil exports was proved with the US recent admission," President Rouhani said after a trilateral meeting with the parliament speaker and judiciary chief in Tehran on November 10.
"The US announced that it cannot zero Iran's oil sales because the oil prices will rise to $150; this is what we had said (before). In this region, either Iran's oil is exported or others will be in trouble as well," he added.
President Rouhani referred to the US lies that the foodstuff, drugs and medical equipment were exempted from Washington's sanctions against Iran, and said, "This is incorrect. When the banking system is sanctioned, everything is affected."