Iran
President: Regional countries should be united to kick out terrorists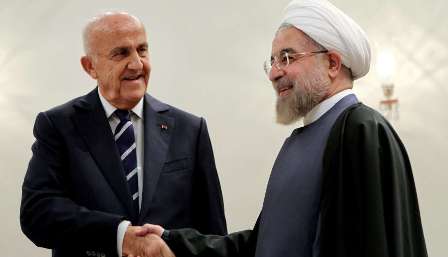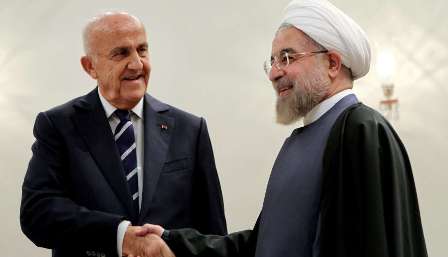 President Hassan Rouhani said on Sunday that countries in the region should be united to help force out terrorist groups from the Middle East region.
President Rouhani made the remarks in a meeting with visiting Lebanese Deputy Prime Minister and Minister of Defense Samir Moqbel.
All should be united to prevent crimes and atrocities of the terrorist groups, underlined President Rouhani.
The Islamic Republic of Iran has always backed countries in the region such as Syria, Lebanon, Iraq as well as other nations who are in struggle with terrorists and is determined to continue with such strategy, said President Rouhani.
Praising the brave resistance of the Lebanese nation to thwart invasion of the Zionist regime who is very merciless in suppressing innocent women and children, he said fortunately the brave resistance of Lebanese people has disappointed Zionists and made them dubious and undecided for the new round of invasion.
He expressed the hope that unity and resistance of Lebanese nation would deter the Zionsit enemy.
Meanwhile, he expressed the hope that the vigilance and awareness of Lebanese nation irrespective of Muslim, Christians, Shia or Sunni along with ethnics and tribes would defend the country's territorial integrity.
He expressed concern about certain governments support for the terror groups and said that it is a grave mistake committed by some countries in the region along with some Western states.
They should bear in mind that a terrorist group could not be means to influence in the region, he said.
All should congratulate the Lebanese army for its forceful resistance to Takfiri and terrorist groups, underlined Rouhani.
Lebanese nation have attained remarkable achievements in recent years and are known as a nation to thwart aggressions of aliens, he said.
Lebanese Deputy Prime Minister and Minister of Defense Samir Moqbel, for his part said in addition to the old enemy which is Zionist regime, a new enemy has been formed in the region under the name of Takfiri terrorist groups.
All Lebanese tribes and political wings are united to back the country's army in fight with terrorist groups and the Lebanese army is now in suitable combat readiness, he said.
"We are determined to maintain the security of our borders and fight with terrorist groups and ready to restore law and order in Lebanon. They have been materialized thanks to the support of the Islamic Republic of Iran," he said.