Iran
President Rouhani: All SCO Members Interested in Improvement of Ties with Iran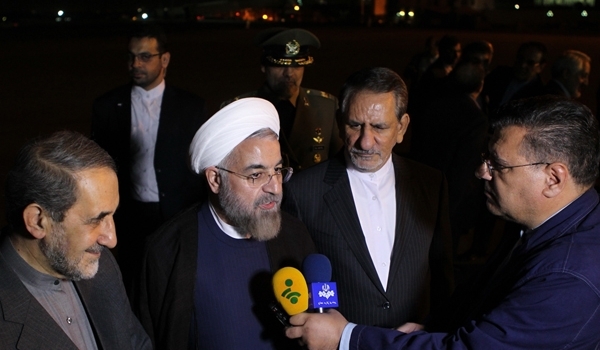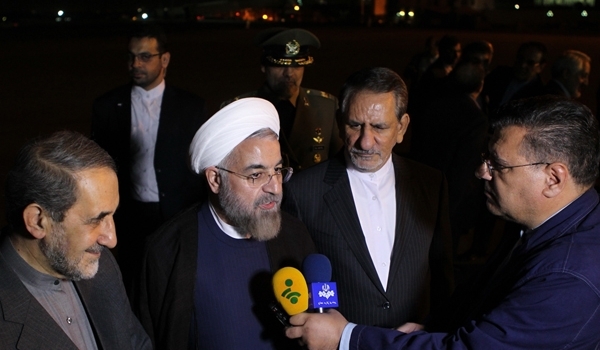 Iranian President Hassan Rouhani expressed the pleasures that all member of the Shanghai Cooperation Organization (SCO) are eager to improve and enhance relations with Tehran.
"I inform the honorable Iranian people that in all meetings and talks (I had with the SCO officials it was revealed that), today all the regional states and SCO members are interested in better and more enhanced relations with Iran in all fields, specially in the economic arena," Rouhani told reporters upon arrival in Tehran after a bi-nation tour of Kazakhstan and Tajikistan where he participated in the SCO summit in Dushanbe and held meetings with the representatives of the member states on the sidelines of the summit.
"We discussed and studied the regional and international issues and we hope that the results of the trip would benefit the Iranian nation and the regional countries," he added.
Rouhani explained that he had also conferred on the economic issues and relations that should exist among the SCO members.
The 14th summit of the Council of the Heads of States of the SCO was held in Dushanbe on Friday.
President Rouhani travelled to Tajikistan's capital on Wednesday to attend the SCO Summit.
The SCO summit focused on regional security and economic cooperation. The SCO leaders exchanged views on current international and regional issues of major concern.
They also issued the Dushanbe Declaration, approved a series of documents on SCO expansion, and passed a resolution on the 70th anniversary of the end of World War II.
Signing an agreement on the facilitation of international road transport among the SCO member states was also on the agenda.
The Shanghai Cooperation Organization is a Eurasian intergovernmental organization which was founded in 2001 in Shanghai by the leaders of China, Kazakhstan, Kyrgyzstan, Russia, Tajikistan, and Uzbekistan.
The Organization currently has six members. Iran, Mongolia, Pakistan, and India are observer states and SCO's dialogue partners include Belarus, Sri Lanka, and Turkey.