Iran
Middle East
North America
President Rouhani Calls for Removal of All Sanctions against Iran
Iranian President Hassan Rouhani dismissed the recent remarks by his US counterpart Donald Trump in Japan as verbal claims, saying that actions speak louder than words and all sanctions against Iran should be removed.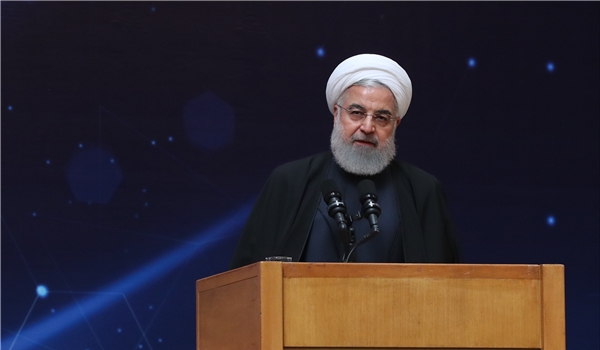 "They have made many statements and they have had many ups and downs in their words, this is the (Iranian) people's resistance that has made them utter contradictory remarks sometimes," President Rouhani said, addressing a cabinet meeting in Tehran on Wednesday.
The Iranian president reiterated that the only way ahead of the US is dropping all sanctions and returning to the nuclear deal, stressing that all other paths would end up in a deadlock for the White House.
"We see their actions, and not words, as the yardstick. Once they stop oppression against the Iranian nation, remove the cruel sanctions, comply with their undertakings and return to the negotiating table that they had left and disrupted (i.e. the nuclear deal), then the way won't be closed to them," he said.
President Rouhani said it is now up to the US to show in practice that it has abandoned cruelty, returned to justice and law and does no more want to continue its cruelties and crimes.
Iranian Foreign Minister Mohammad Javad Zarif also said there were enormous disparities between what the White House was saying and what it did in dealing with Tehran.
Zarif said, in a tweet on Monday, that Trump had to prove in action whether he sought to fall into line with the league of anti-Iran domestic and regional officials.
The Iranian top diplomat said, "B-Team's Economic Terrorism is hurting the Iranian people and causing tension in the region. Actions—not words—will show whether or not that's Donald Trump's intent."
According to Zarif's earlier tweets in April, the B-Team is made up by US National Security Advisor John Bolton, Israeli Prime Minister Benjamin Netanyahu, Saudi Crown Prince Mohammed bin Salman, and Abu Dhabi Crown Prince Mohammed bin Zayed Al Nahyan.
The top diplomat reminded that the markedly hostile foursome had themselves admitted to targeting the Iranian people with economic terrorism.
The Iranian diplomatic chief separately reiterated absence of whatever intention on the part of Tehran to pursue nuclear arms, reminding how Supreme Leader of the Islamic Revolution Ayatollah Seyed Ali Khamenei, the country's highest authority, has categorically prohibited the weapons.
Iranian Foreign Ministry Spokesman Seyed Abbas Mousavi also reiterated the remarks by his boss in response to the US president's softened tone for talks, and stressed that Tehran was waiting for Washington's change of behavior in action and not just in words.
"The Islamic Republic of Iran pays no specific attention to words and rhetoric. Change of approach and behavior is important to us. We will decide based on what we see and their reflections on us and our region," Foreign Ministry Spokesman Seyed Abbas Mousavi told reporters in a press conference in Tehran on Tuesday.
He underlined contradictions in Trump and the US ruling system's words, and said, "Change of approach and finally, change of behavior is important to us."
Mousavi further rejected media speculations that certain countries were mediating between Iran and the US, and stressed that Tehran was in no talks with Washington and saw no perspective for such negotiations.
"We do not have any negotiations with the US. We were in talks (i.e. in line with implementation of the 2015 nuclear deal). The US was in the talks but they ended it through their illegal withdrawal. We do not see any perspective for negotiations," the spokesman said.
Asked by reporters about media speculations about mediation of certain countries for talks between Iran and the US, he said, "The tensions between Iran and the US are rooted in (the US) economic terrorism and sanctions. Different countries with different incentives and God willing, good will, monitor the developments. We are not now in the mediation stage."
"No special message was given to Iran by the friendly states' officials who visited Iran and we did not have a message either and these visits were only aimed at an expression of views," Mousavi stressed.