Iran
President Rouhani Felicitates Imam Sayyed Ali Khamenei, Senior Clerics on Nowruz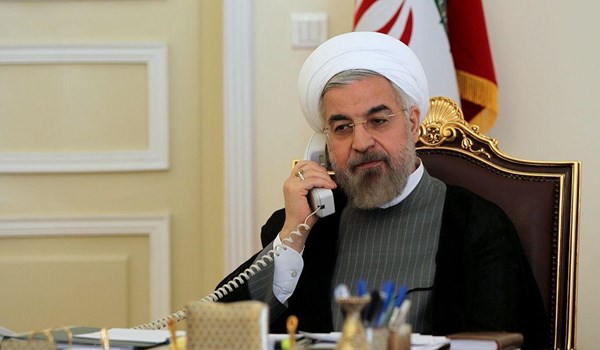 Iranian President Hassan Rouhani, in phone conversations on Thursday, extended greetings to senior officials and clerics of the country on the advent of the Persian New Year whose first day is called Nowruz.
In separate phone calls with Supreme Leader of the Islamic Ummah and Oppressed Imam Sayyed Ali Khamenei, and some religious authorities, President Rouhani congratulated the Iranian New Year and Imam Ali's birthday anniversary.
"The Government has been offering services to people with its full power and will continue to do its duties with new plans and decisions in the New Year as well," the President told the Supreme Leader.
Leader of the Islamic Ummah and Oppressed Imam Sayyed Ali Khamene wished President Rouhani more success in offering services to the people of Iran.
Also, in separate phone calls, President Rouhani congratulated Nowruz and the Iranian New Year to some religious authorities, including grand ayatollahs Hossein Vahid Khorasani, Lotfollah Safi, Abdollah Javadi-Amoli, Nasser Makarem-Shirazi, Jafar Sobhani, Mousa Shobeiri-Zanjani, Hossein Noori-Hamedani, Mohammad Alavi-Gorgani, and Hossein Mazaheri.
Wishing more success for the government to serve the great Iranian nation, the grand ayatollahs also congratulated the New Year to President Rouhani and appreciated the government's hard work in serving the people.
Also today, Rouhani cabled separate messages to the leaders and heads of states in those countries of the region which celebrate traditional Nowruz rituals, wishing for the nations' success and prosperity in the New Year on the Persian Calendar.
President Rouhani felicitated the beginning of spring and the Persian New Year to the leaders of Afghanistan, Tajikistan, Pakistan, Azerbaijan, Turkmenistan, Armenia, Turkey, Kazakhstan, Kyrgyzstan, Iraq and Uzbekistan.
In the messages, the Iranian president voiced hope for a year of serenity, kindness, and prosperity, adding, "I hope that we, too, as statesmen, will be able to bring peace and unbreakable unity among nations with the arrival of the spring, and gift our people more prosperity and advancement."
Rouhani further wished the people of regional countries a year full of hope, happiness and success.
Nowruz, which coincides with the first day of spring on the solar calendar (this year started on March 21), is mostly celebrated in Iran, Afghanistan, Azerbaijan, India, Kyrgyzstan, Tajikistan, Pakistan, Turkey and Uzbekistan.
The International Day of Nowruz was registered on the UNESCO List of the Intangible Cultural Heritage of Humanity on February 23, 2010.
For Iranians, Nowruz is a celebration of renewal and change, a time to visit relatives and friends, and pay respect to senior family members.
Iranians welcome the New Year by wearing new clothes and setting the Haft Seen, a table containing seven items starting with the letter 'S'; Sabzeh (freshly grown greens), Samanu (sweet wheat paste), Senjed (jujube), Seeb (apple), Seer (garlic), Serkeh (vinegar) and Somaq (sumac).