Human Rights
President Rouhani: Iran Respects Women's Social Rights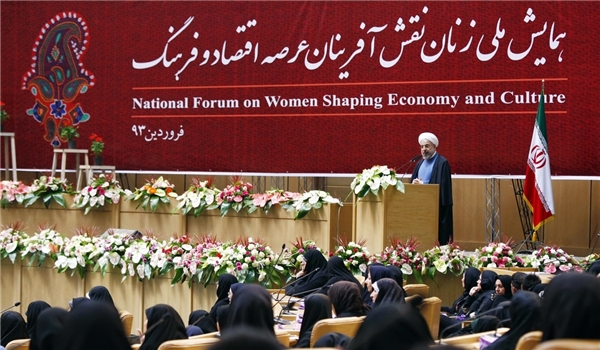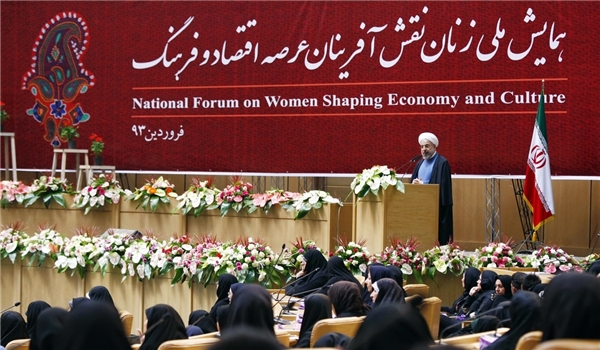 Iranian President Hassan Rouhani underlined that the Islamic Republic pays much respect to women's social rights and tries to provide the ground for their equal chance with men both for study and work.
"Women should enjoy equal opportunities, immunity and social rights; we have a long way to go on this path before we reach the destination," President Rouhani said, addressing a ceremony to commemorate the National Women's (Mothers') Day in Tehran on Sunday.
He referred to the government's measures to pave the ground for women's scientific progress, their employment and opportunity for studying at higher levels, and said the Iranian women are now present on various cultural and economic scenes.
Rouhani also described expansion of electronic marketing as a good ground for creating better working conditions for women.
In relevant remarks on the occasion of the National Women's Day on Saturday, Supreme Leader of the Islamic Revolution Ayatollah Seyed Ali Khamenei lambasted the western countries for their materialistic view and instrumental use of women, describing the West's wrong view about woman as the root cause of various problems in the contemporary world.
"The business-centered view about women's capacities in economic issues, including job, and the humiliating view about women and degrading them to an instrument to mollify men's passion is one of the principles which has made the western thoughts about women completely cruel and fanatic," Ayatollah Khamenei said, addressing a large number of female visitors in Tehran.
"If we want to have a sound, logical, precise and helpful view about the issue of women, we should distance from the western thoughts in issues like job and sexual equality," he added.
Ayatollah Khamenei described "women and men's sexual equality" as one of the West's wrong views, and said, "Equality doesn't always mean justice, justice is always right but equality is sometimes right and sometimes wrong."
In relevant remarks in 2011, the Supreme Leader blasted the western countries for their instrumental use of women, and said, "In the wrong equation that the West has gradually induced and inspired kin the different societies, the human being is divided into two parts; Men who are considered as beneficiaries and women who are exploited and used."
Based on this very wrong view, if women in the West want to prove themselves as renowned personalities in the society, they should behave in a way that men, as the beneficiaries, like, and this insult is the biggest oppression and cruelty against women, Ayatollah Khamenei added.
Referring to the figures published by the international centers, Ayatollah Khamenei reiterated that the weakening foundations of the western families, rapid growth of women trafficking and women trade, illegitimate births and shared life outside matrimony are just a few of the evil consequences of the West's improper view of women, which is based on misuse.
Every day, women in Europe and the US fall victim to one of the most flagrant abuses of their human rights – the right to live without violence.
It might be the stranger lurking in the back alley: much more likely it is the partner, relative, friend or colleague – for most violence against women is carried out by someone they know.
Crime statistics show that one woman in four has been attacked at some time in their lives and that at least 15 per cent of all European women have experienced domestic violence in a relationship after the age of 16. With domestic violence still very much a hidden crime, the real figure is sure to be higher. Other forms of violence – such as stalking, forced marriage, forced abortions, and forced sterilization – still pass largely unrecorded.
Conviction rates for any type of violence against women are notoriously low. When police pick up a case, on average there are 35 previous incidents to take into account. And law enforcement agents do not always possess the required expertise to produce the evidence necessary to see perpetrators brought to justice. Is it any wonder that convictions are rare?
Governments throughout Europe are recognizing the challenge, but have fallen short of action. Some have now set up refuges for abused women, some have criminalized harassment. Others use restraining orders, counseling or mediation services, or expel the violent partner from the home. Practices differ from country to country, with no clear legislative model – leaving Europe's women vulnerable to a crime that should have passed into the history books years ago.
Given the mottos chanted by Europe about its pioneering role in the protection of human rights throughout the world, is this the utopia that the western society is calling everyone to?