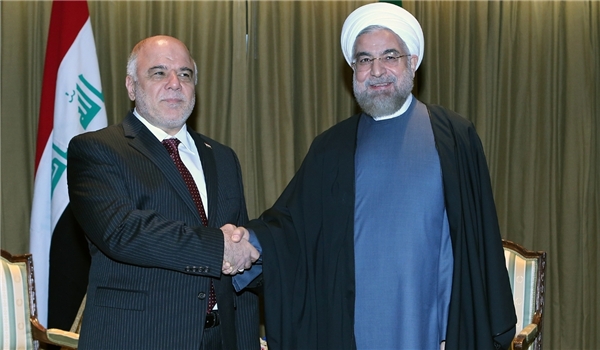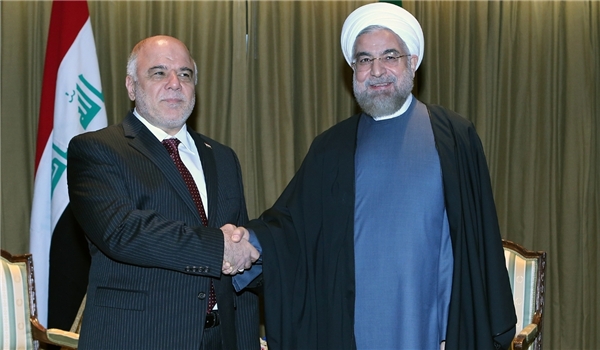 Iranian President Hassan Rouhani in a meeting with Iraqi Prime Minister Haider al-Abadi underlined friendly and brotherly ties between the two countries, and said Tehran spares no efforts to help Baghdad in handling the current volatile situation.
During the meeting on the sidelines of a UN General Assembly meeting in New York on Wednesday, President Rouhani stressed that Iran does not seek permission from any one to support Iraq's security and development, and said, "Tehran considers Iraq's security and stability as its own security and stability."
In the strategic Middle East region, development and progress are possible only through consolidation of solidarity, he said.
Hailing Bagdad's achievements in its fight against the Islamic State of Iraq and the Levant (ISIL) terrorist group, President Rouhani said Iran would spare no assistance to Iraq in its current ordeal considering it a duty for Tehran both from the religious and neighboring aspects.
President Rouhani stressed any military act in Iraq, including bombarding the ISIL positions, by foreign countries should be made based on Baghdad's demand and permission.
Al-Abadi, for his part, said that President Rouhani was the first head of state that whom he called for a meeting with in New York.
He said terrorism is not only a threat against Iraq, but also a threat against Islam and all nations, and added that Tehran's consultations have helped Baghdad prevent ISIL from making further advancement in Iraq.
In relevant remarks on Wednesday, Representative of the Iraqi Kurdistan Regional Government (KRG) in Tehran Nazim Dabagh said the Kurdish population wanted Iran to lead the war on the ISIL terrorists.
"We prefer our friends (the Islamic Republic of Iran) to spearhead this fight (against ISIL)," Dabagh, also a senior member of the Patriotic Union of Kurdistan (PUK), told FNA.
"Owing to our intimate ties with the Islamic Republic of Iran, we welcome Iran's greater role against the ISIL," Dabagh said.
He noted the closeness and common ethnicity of Iraqi Kurds and Iranians, and said his region had always had very close ties with Iran, reminding how the Kurdistan Region's officials and Iran's Foreign Minister Mohammad Javad Zarif underlined continued and growing cooperation between the two sides.