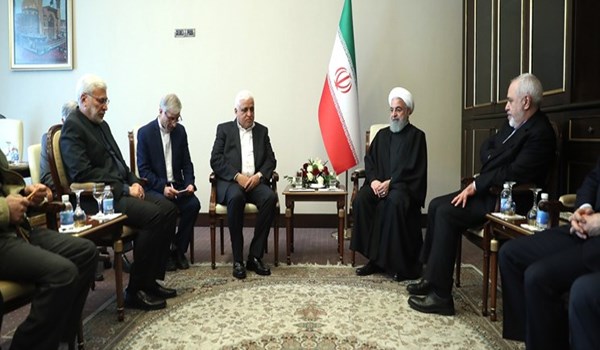 Iranian President Hassan Rouhani in a meeting with National Security Advisor to the Iraqi Prime Minister and Head of Hashd al-Shaabi Faleh al-Fayad stressed the Iraqi popular forces' vital role in the fight against terrorism and safeguarding Iraq's national solidarity.
"Hashd al-Shaabi enjoys a highly important position in Iraq's culture and strengthening national solidarity in the country," President Rouhani said during the meeting in Baghdad on Tuesday.
Fayad, for his part, underlined the importance of the expansion of cultural, scientific and social cooperation between the two countries, and said, "Development of ties and cooperation between Iran and Iraq will pave the ground for major developments in the region."
"Iraq always considers itself as a defender of the Islamic Republic of Iran in different arenas and is proud of the achievements and political, economic, regional and international advancements made by the neighboring and brotherly country of Iran."
President Rouhani arrived in Iraq on Monday in order to boost bilateral ties between the two neighbors amid US sanctions against the Islamic Republic.
Rouhani traveled to Baghdad to hold talks with Iraqi officials. A high-ranking delegation is accompanying the president.
In relevant remarks earlier today, President Rouhani underscored Tehran and Baghdad's key and effective roles in the region, saying that his country would continue efforts to resolve the regional problems.
"Similar to the past, the Islamic Republic of Iran is ready to take steps to resolve the regional problems and develop talks and interactions among the regional states," President Rouhani said in a meeting with Head of the National Wisdom Movement of Iraq Ammar al-Hakim in Baghdad on Tuesday.
He also warned that the big powers, specially the US, are always after hatching plots against the regional nations.
Hakim, for his part, briefed Rouhani on the cultural and political situation in Iraq, saying, "Today, Iraq has been able to live through big challenges and move on the path of reconstruction and development and certainly, further development of relations and cooperation with Iran can be effective in acceleration of this trend."