Iran
Middle East
North America
President Rouhani Likely to Call Off New York Visit as US Procrastinates Issuing Visa for Iranian Delegation
Iranian President Hassan Rouhani may cancel his visit to New York to participate in the annual UN General Assembly meeting as the US has not yet issued any visa for him and his entourage.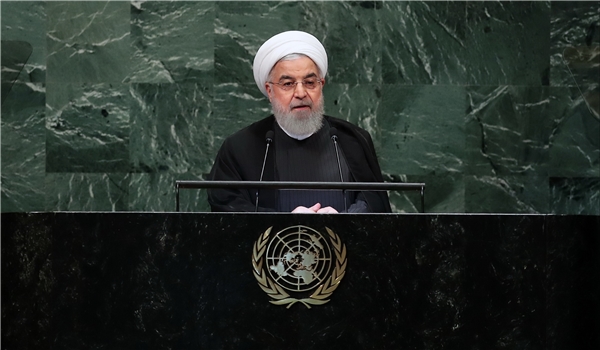 Reports said on Wednesday that no visa has yet been issued by the US for the Iranian delegation, including the president, the foreign minister and their entourage so far to attend the 74th meeting of the UN General Assembly.
As the US continues delaying visa issuance in violation of the UN laws, President Rouhani's trip to New York now seems to be more likely to be called off.
The Iranian foreign ministry had on Monday dismissed any possibility for a meeting between President Rouhani and his US counterpart Donald Trump on the sidelines of the UN General Assembly meeting in New York.
"I do not confirm such reports. Neither is such a plan on our agenda nor will such a thing happen. This meeting will not be held," Foreign Ministry Spokesman Seyed Abbas Mousavi told reporters in a press conference in Tehran.
"We had announced earlier that if the US stops economic terrorism and returns to the nuclear deal, then they may sit at a corner and be present within the framework of the nuclear deal member states," he added.
Trump had said last Monday he could meet with President Rouhani and that he had no problem with such an encounter.
"It could happen. It could happen. No problem with me," Trump told reporters at the White House.
But on Sunday he said it's incorrect to report that he's willing to meet with Iran with "no conditions," contradicting what multiple top administration officials have said in recent days.
"The Fake News is saying that I am willing to meet with Iran, 'No Conditions.' That is an incorrect statement (as usual!)," Trump tweeted without elaborating further.
Also, last week, US Secretary of State Mike Pompeo and Treasury Secretary Steven Mnuchin both reiterated to reporters that Trump was willing to sit down with Rouhani with no conditions.
"The president has made very clear he is prepared to meet with no preconditions," Pompeo told reporters during a press conference alongside Mnuchin when asked about a possible meeting in New York.
And Mnuchin on Thursday said that Trump "has said he would sit down with Rouhani with no conditions," with the caveat that there were no plans to do so yet.
Earlier this month, President Rouhani informed his French counterpart Emanuel Macron in a phone conversation that Tehran would not hold talks with Washington as long as his nation was kept under the cruel sanctions.
During the conversation, Rouhani blasted the US for withdrawal from the nuclear deal as an international deal, saying that the Iranian government, parliament and people maintain that talks with the US are "meaningless" under the US unilateral sanctions.
"We are ready to return to JCPOA undertakings if agreements with the EU are finalized and Iran's meeting with the Group 5+1 is possible only when sanctions are lifted," he said.