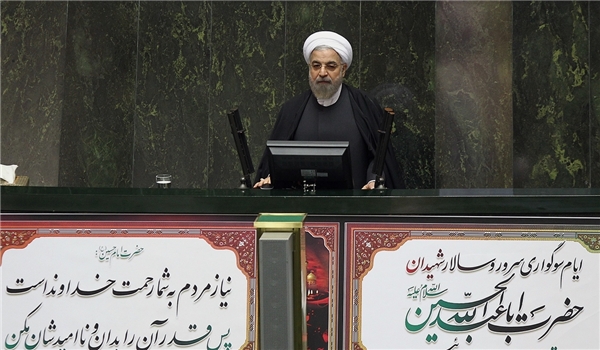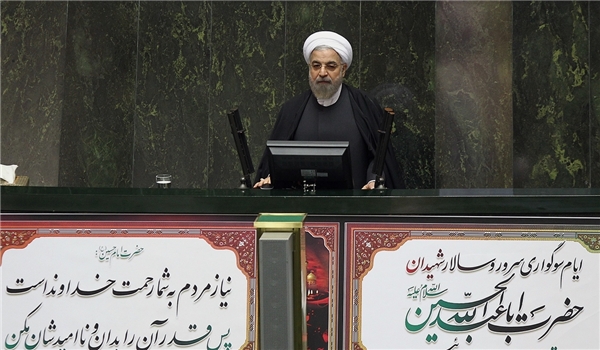 Iranian President Hassan Rouhani voiced concern about insecurities and unrests in different parts of the region, and said the world Muslims have now pinned hope on Iran to settle their problems.
"Under the current conditions in the world when our region is, unfortunately, entangled in insecurity and instability and we are witnessing problems and insecurity from North Africa to the Middle-East and in our Eastern and Western neighbors, our friends, Muslims and the regional people have pinned hope on the Islamic Iran," Rouhani said in Tehran on Wednesday, addressing the Iranian parliamentarians who were due to give a vote of confidence to Mahmoud Nili Ahmadabadi as the president's nominee for the post of Science Minister.
He underlined that the good conditions in Iran are indebted to empathy and unity among the country's three branches of power, including the government, the parliament and the judiciary, under the guidance of Supreme Leader of the Islamic Revolution Ayatollah Seyed Ali Khamenei.
"We have come out victorious in foreign and domestic policy, we have taken important steps in economy and wide strides for not only our country's security, but also for the regional and international security," Rouhani added.
Iran's significant role in the establishment of security in the region and the world has also been acknowledged by many foreign officials.
UN Secretary-General Ban Ki-moon in a meeting with Iranian Foreign Minister Mohammad Javad Zarif in New York in September underscored Tehran's major and important role in settling different problems in the region.
"The Islamic Republic of Iran plays a constructive and effective role in resolving the regional crises and need for making greater use of Iran's potentials and capabilities and to solve the current problems in the region is necessary today," Ban Ki-moon said during the meeting.
He emphasized that Iran is a major player also in the Persian Gulf region and can play important roles using its broad capacities and capabilities.
The two sides in the meeting exchanged views on various issues, including Iraq, Afghanistan, Syria, and the spread of extremism and terrorism in the region.